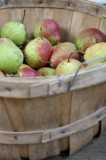 The Summer Market is now OPEN.
Did you know that the Farmers' Market of Keene accepts Credit, Debit, and EBT Cards?
Forgot to hit the ATM? No problem! The Farmers' Market of Keene now has the capability to accept credit, debit and EBT cards for purchases made at the market. We'll swipe your card for the amount you request and provide tokens that you can use to purchase products from any of the vendors.

For customers with EBT cards (food stamps), we have extra good news for you! Thanks to support from Wholesome Wave Foundation, the USDA, and the Cheshire County Conservation District, we can match the first $10 your food stamp purchase. That means for $10 from your card's balance, you'll receive $20 worth of tokens. Limit one matching transaction per customer per market.

Stop by the market's information booth to learn more.
What Will I Find at the Market?
We will have fresh veggies, fruits, meats, dairy products, eggs, preserves, wine, and maple products. Local bakers will also provide bread, cookies, granola and other tempting treats while local crafters will round out the selection. Live music and children's activities will add to the atmosphere!

----------------------------
The Farmers' Market of Keene has strict rules about what can be sold and who can sell at the market. Vendors must be local -- meaning from Cheshire County or one of the surrounding counties -- and must produce what they are selling on their own farms or in their own studios. Prepared foods must be made in licensed kitchens, and the use of local ingredients is encouraged wherever possible.
Love the Farmers' Market of Keene? Become a "Friend of the Farmers' Market"!
Our market would not be possible without our dedication community of volunteers. Our volunteers help staff the information booth, manage the credit/debit/EBT machine, and coordinate farmers' market activities. They also give tours of the market and act as faces of the market for new customers. If you are interested in becoming a Friend of the Farmers' Market, please e-mail the market manager at keenefarmersmarket@gmail.com