Today Is Monday, October 23, 2017
Effective April 2016 Growing Concern Farm & Nursery will be open Saturdays from 9AM-5PM. The buying club is no longer operating.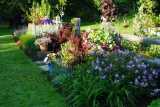 Online Buying Club at Growing Concern now closed. Retail hours on the farm now Saturdays 9AM-5PM. Thank you for your past business!
---
Effective April, 2016 Growing Concern is shifting focus to:

Wholesale distribution of local food and
Saturday retail hours (9AM - 5PM) on the farm.

The retail barn will be used for wholesale aggregation of our crops and those of other local producers.

A "what's fresh" availability list will be posted using Facebook during the growing season.
And we will be open (and weeding) Saturday 9AM-5PM.

We appreciate your support of our farm and local food production over the years. However, the low Canadian dollar coupled with Walmart garden center competition over 2 years makes full time retail unviable.

Come visit on a Saturday - we are growing more and using our refrigerated truck to distribute more products throughout our local food system.

Judy and Richard

Thank you all for supporting Washington County producers!
Growing Concern Farm & Nursery

Hours: Saturday 9AM - 5:00PM or by appointment
The Market features fresh local produce, eggs, breads and baked goods, meats, maple and honey products, jellies, and jams.

Production methods vary from farm to farm and include certified organic, grass fed, free-range and locally raised animals.
Growing Concern Farm & Nursery
Growing Concern Farm & Nursery is a small urban farm located in the city of Calais in Downeast Maine. We operate year round providing retail and wholesale nursery products, landscaping services, and a retail outlet for fresh local produce.

Our growing philosophy is environment-friendly and chemical free using the most up to date information and technology while retaining the wisdom of the past.

The retail farm stand is a reflection of that philosophy. Its design matches the architectural integrity of the existing 160 year old farmhouse and is sited to capture morning and afternoon sun. The interior and exterior are constructed of all wood products purchased from local vendors. The display benches, also wood, are made in Lewiston, Maine. Windows are energy efficient as are lighting fixtures and bulbs.
---