![endif]-->') document.write(''); document.write(''); document.write(''); } else { document.write('') document.write('') document.write('') }
"We learn from our gardens to deal with the most urgent question of the time:
How much is enough?"

Wendell Berry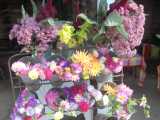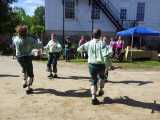 Meet Me at the Market!
---
Visit the Hancock Farmers Market!
To enjoy fresh local food and crafts from Hancock and surrounding area.

Join us on our opening day Saturday May 18th.

Experience the Hancock Farmers' Market in 2013!
What you will find at the Market
On July 20 Matt Harris will be playing at the market. On July 27 there will be an encore performance by Doug Farrell, Antrim singer/songwriter performing rock/blues interpretations and original songs. Also on July 27, the market celebrates Christmas in July. Tired of the heat and humidity? Does the thought of crisp weather and snowflakes have new appeal? Start your holiday shopping at Hancock Farmers' Market where vendors will be celebrating Christmas in July on Saturday, July 27 with holiday-themed products.
On Aug 3 Fred Sprague will be performing, while Don Briggs demonstrates chair caning.

Online Ordering
The Hancock Farmers Market is getting ready for online ordering. Check back soon!
---