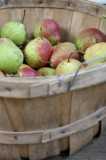 Great local food year 'round:
Come see us at the winter market

---
Now in a bigger and better space at the Colony Mill Marketplace, 2nd and 4th Saturday of each month
You don't have to give up local food just because winter is settling in. At the winter market, you can get lots of the same great food you enjoy from the same vendors you see at the summer market. You'll find the winter market at the Colony Mill Marketplace in Keene, at the corner of West and Island streets. We'll be there on the second and fourth Saturday of each month from November to April from 10 a.m. to 2 p.m., just inside the entrance near the Elm City Brewery.
What Will I Find at the Market?
We will have fresh veggies, fruits, meats, dairy products, eggs, preserves, wine, and maple products. Local bakers will also provide bread, cookies, granola and other tempting treats while local crafters will round out the selection.

Here's a list of vendors who plan on attending winter markets and their primary products*:
Abenaki Springs Farm (vegetables)
Beadin in Eden (jewelry)
Bo-Riggs Cattle Company (black angus beef)
Cheshire Garden (preserves)
Edgefield Farm (lamb, pork, poultry, vegetables)
Goats Rock Dairy (goat cheeses)
Hearthstone Furniture (handmade furniture)
Heron's Half (vegetables)
Holland Homestead (goat milk soaps, lotion, and fudge)
Manning Hill Farm (milk, eggs, beef, pork, poultry, maple)
Orchard Hill Breadworks (bread and other baked goods)
With Good Reasons (granola)
Sawyers Cheese (aged cows' milk cheeses)
Woodard's Sugar House (maple syrup and candy)

Parital Season Vendors:
Brewbakers' (coffee and baked goods)
Sunset Farm (vegetables)
Walpole Mtn. Vineyards (wine)
----------------------------
The Farmers' Market of Keene has strict rules about what can be sold and who can sell at the market. Vendors must be local -- meaning from Cheshire County or one of the surrounding counties -- and must produce what they are selling on their own farms or in their own studios. Prepared foods must be made in licensed kitchens, and the use of local ingredients is encouraged wherever possible.
*Partial list. Not all products and vendors will be available at every market.
Credit, debit, and EBT cards accepted at the winter market
Forgot to hit the ATM? No problem! The Farmers' Market of Keene now accepts credit, debit and EBT cards for purchases made at the market. We'll swipe your card for the amount you request and provide tokens that you can redeem with the vendors.

For customers with SNAP benefits (food stamps), we have extra good news for you! Thanks to support from Wholesome Wave Foundation, the USDA, and the Cheshire County Conservation District, we can match the first $10 your food stamp purchase. That means for $10 from your card's balance, you'll receive $20 worth of tokens. Limit one matching transaction per customer per market.

Stop by the market's information table to learn more.
---