Today Is Sunday, June 16, 2019
Sorry, this online market is currently closed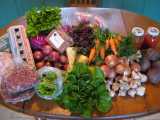 Local Delivery of Local Food!

---
Welcome to the St. J ALFA Online Farmer's Market
Starting Saturday, May 12, 2012, we will be delivering weekly to the St. Johnsbury farmers' market behind Anthony's in downtown St. Johnsbury.

Why should customers bother ordering online if you have to go to the farmers' market to pick up anyway? Two main reasons: first, the online market includes quite a few vendors who do not attend the regular farmers' market, so there are a greater variety of products to choose from; second, because the products are pre-ordered, they are reserved so you don't have to worry about popular items selling out before you get to the market. This is also a great way to support farmers, bakers, and other vendors who are unable to get a spot at the regular St. J farmers' market!
What you will find at the market
Check out the menus at left to see what you may order. Our farmers and value-added food suppliers provide a diverse inventory. All of our food is local (Northeast Kingdom) and grown or prepared by the seller themselves. The Market features fresh local produce, meats, cheese, breads and baked goods, coffee, maple products, and many other options.
The St. J ALFA Mission
Our mission is to strengthen our regional food system and increase food sustainability and security, so that all community members have access to affordable, healthy, locally produced food.

The goal of the Online Farmer's Market is to make access to locally produced food more convenient.

The market is driven by community interests. We hope you will connect with your neighbors, co-workers and farmers to learn about and enjoy the delicious variety of foods the region has to offer.
---