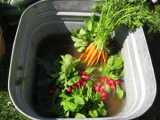 Meet Me at the Market!
---
Visit the Wolfeboro Farmers Market
The Wolfeboro Area Farmers' Market (WAFM) takes place every Thursday, 12:30 to 5:30, at Clark Park (233 South Main St.). Clark Park is located across from Huggins Hospital behind the Clark House Museum Complex.
What you will find at the market
Enjoy fresh vegetables, fruits, herbs, cut flowers, plants, meat, poultry, eggs, dairy, baked goods, honey and maple syrup.
And more
Weekly educational exhibits or workshops.
---