Greetings, Local Food Lovers!
Place your order from
Western Maine Market
today or by 6:00 A.M. tomorrow morning for pick-up or delivery this Friday or Saturday.

Farmington's Saturday Farmers' Market at the Courthouse
This Saturday, Farmington's Saturday market will move to its summer location for the season, in the courthouse parking lot on Main Street, 9am-noon.
Chocolate Brownies
Menu Group: Food - Section: Baked Goods - Category:
Brownies

Vendor: Beehive Bakery

traditional brownie recipe with large chocolate chunks added in. You will never forget these.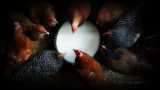 Eggs
Menu Group: Food - Section:
Eggs

Vendor: Fleur de Lis Farm Creamery & Boulangerie


FRESH all-natural Pastured heritage hen chicken eggs: Our delicious and nutritious Clabber-fed chicken eggs! Our happy hens receive a daily dose of organic Jersey milk clabber, from our own herd, and kitchen-greens, before heading out to forage for the day.

Gourmet Farm-Fresh Duck Eggs: Our JUMBO Duck Eggs are rich, mild flavored, and superior in nutrition and baking attributes. They contain 50% more protein than chicken eggs. Our ducks lead a happy life roaming freely about our farm (most of the year) in the pastures and wetlands, producing a most delectable egg. Duck eggs are the French culinary "secret"!
Calming Chamomile!
Menu Group: Food - Section: Coffee and Tea - Category:
Tea

Vendor: Whitehill Farm

Certified Organic Chamomile blossoms, all hand harvested at Whitehill Farm. Makes a soothing and calming tea!

Luxury Cotswold handspun yarn
Menu Group: Artisan Works - Section: Wool - Category:
Yarn

Vendor: Fleur de Lis Farm Creamery & Boulangerie


Lustrous handspun yarn, spun right from the natural locks of our purebred Cotswold sheep fleece. Support the preservation of our conservation flock!
Perfect for a quick knit/crochet gift, weaving, and doll hair and many other fiber art expressions!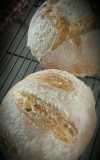 French Artisan Bread
Menu Group: Food - Section: Baked Goods - Category:
Bread

Vendor: Fleur de Lis Farm Creamery & Boulangerie


Freshly baked 1+ lb rustic french boule - made from our naturally fermented bread dough - using only 4 ingredients...flour, yeast, water, salt.
Quintessential peasant bread to accompany soup and salad. Perfect for authentic French Toast, Crostini,
Croutons, or all-natural bread crumbs :)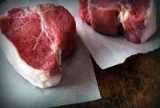 Gourmet Lamb
Menu Group: Food - Section: Meat - Category:
Lamb

Vendor: Fleur de Lis Farm Creamery & Boulangerie

Ground: The perfect alternative (or complement) to ground beef - adds flavor and nutrition to many recipes.

Our lamb offers a long list of possibilities for quick and easy weeknight dinners: meatballs, burgers and sliders, shepherd's pie, kabobs, and meatloaf. Add aromatic seasonings to impart delicious flavor and variety to any meal made with ground lamb.

Kabobs/Stew Meat: Trimmed and cubed lamb from the leg or shoulder is a perfect choice for quick and easy stew or kabobs.

Liver: A super-food. Nutrient dense, clean, healing, nutritious, organ meat for your table. Prepare just as you would beef livers. Or grind and add for a healing tonic.

Prime-Cut Loin Chops: Mild, melt-in-your-mouth gourmet lamb loin chops. 100% all-natural, nothing artificial, no antibiotics, no preservatives, delicious pastured American Lamb - 1", 2 chops per package.

Rack of Ribs: One of the most cost-conscious cuts of lamb, the lamb spareribs or Denver ribs are perfect for braising and grilling and are a great substitute for baby back pork ribs in your favorite BBQ recipe.

Roast - Large Shoulder Cut: Our Gourmet Lamb Shoulder Roast: ON SALE (from last seasons crop), was 14.95 now 8.95!
Need to make room in the freezers - your chance to save on lovely Lamb
This large shoulder cut would make a perfect stew.

Sausage: Chorizo, Garlic, Hot, or Sweet: Lean & Naturally seasoned - Nitrate free! Delicious lamb dinner sausage links for a quick and easy, nutritious meal!;
Fresh clean Fiddleheads
Menu Group: Food - Section: Vegetables - Category:
Fiddleheads

Vendor: Island Farm

Seedlings & Bulbs
Menu Group: Plants and Seeds - Section: -
All Plants and Seeds

Vendor: Rasmussen Farm
Dahlia bulbs
: Lovely blooms appear late in the summer. These are perennials if you dig up the bulbs in the fall, cellar them for the winter, and replant in late spring, or you can treat them as annuals. If you dig them up, you can divide them in spring or fall and will have more bulbs next year. Plant 18" apart.
Italian Parsley

Sorrel, Red-veined
(pictured): Johnny's says: "Bright green leaves with contrasting dark maroon stems and veins add color and taste to salad mix. Same sharp, tangy flavor as regular sorrel."
Sunflowers, mixed colors
: Tall sturdy plants with many beautiful blooms. Feed your spirit, feed the birds, we even use them as beanpoles!
Tomatoes:
Sun Gold
: An orange cherry tomato, one of the sweetest and most loved.
Super Sweet 100
: Delicious red cherry tomatoes
Many more varieties of seedlings & plants are available, just not yet listed on the website. Email
dchadbou@gmail.com
for more details. A list will soon be posted on Rasmussen Farm's "Meet Our Farmers" page.