Greetings, Local Food Lovers!
Place your order from
Western Maine Market
today or by 6:00 A.M. tomorrow morning for pick-up or delivery this Friday or Saturday.

Whitehill Farm will be open on Saturday the 10th

We have a nice selection of Certified Organic heirloom tomato and pepper seedlings, basil, marigolds, and some zucchini and brassicas. The Garden Kitchen will be open for shopping: pickles and jams, steak sauce and chutneys, culinary herbs and herb blends, frozen pestos and tomato sauce, farm-fresh eggs, handmade baskets and seed pins, PLUS some pottery and McCoy pots for those of you are collectors! Hope to see you on Saturday!

Directions: Go to Franklin Memorial Hospital by your favorite route; turn south on 133; go 1½ miles to McCrillis Corner Rd; turn left, AND we are ½ mile at the top of the first rise, number 357, on the right.
Rangeley Market pick-up
For the summer season, we offer an additional order pick-up option. In addition to the Rangeley Friday meet-up with Ernie, there is a limited offer for picking up orders Tuesdays at the Rangeley market. Most of our vendors only deliver to Western Maine Market on Fridays, so orders still need to be placed by the usual 6 a.m. Thursday morning deadline for the following Tuesday. We can hold frozen, non-perishable, and not-highly-perishable items over the weekend. You can order fresh items, even after the official deadline, only from vendors who participate in the Rangeley market. For the moment that means just Beehive Bakery and Rasmussen Farm, but other WMM vendors will be joining the market line-up as the season gets into full-swing. Feel free to contact Deborah for more details at
info@westernmainemarket.com
or 857-225-1199.
New Vendor!
Cheese at GratefulBreadBakery

Small batch cheese made with local milk from grass fed cows! No grain.
New and Returning Products

Whoopie Pie - Wilkies Whoopies
Menu Group: Food
Section: Baked Goods

Vendor: King & I Angus

Wilkies Whoopies are a Maine tradition; however, as a young girl from MA a tradition we also delighted in when Mom would bake up a batch. Made with butter and the very best cocoa we fill our pies with a butter/marshmallow cream. A wonderful treat anytime.
Cranberry Nut Granola
Menu Group: Food
Section: Baked Goods

Vendor: King & I Angus

Loaded with oats, cranberries, walnuts, almonds, sunflower seeds, coconut and wheat germ, mixed with a honey syrup and baked to a perfect crunch. Great anytime!
English Muffins Blueberry
Menu Group: Food
Section: Baked Goods

Vendor: King & I Angus

English muffins made with Maine Blueberries, grilled to perfection with nooks and crannies. Simply delicious!
Focaccia Bread with Tomatoes, Onions & Rosemary
Menu Group: Food
Section: Baked Goods

Vendor: King & I Angus

Caramelized onions, fresh tomato and rosemary covering a nine inch round focaccia bread. Great before dinner, with dinner or anytime of the day.
This can be enjoyed cold or put in the oven at 325 for a few minutes to make it warm and just a bit crispy, yum
Irish Shortbread Cookies
Menu Group: Food
Section: Baked Goods

Vendor: Beehive Bakery

Traditional shortbread cookies of Ireland which my Irish granny made slightly more coarse and chewy than the shortbread from across the Irish Sea in Scotland. Lots of butter and a tad less sugar than the Scots use. I bake with King Arthur flours and put honey in recipes as much as possible instead of lots of sugar.
often it's our own honey until we run out and take more off the hives mid summer.
Asiago Cheese
Menu Group: Food
Section: Dairy

Vendor: Cheese at GratefulBreadBakery

This Asiago is made from locally sourced milk from grass fed cows. Asiago is wonderful sliced this with crackers and fruit, grated on any food item and makes a lovely grilled cheese.
Shepherds Pie
Menu Group: Food
Section: Prepared Foods

Vendor: King & I Angus

Nothing more comforting then Shepherd's Pie. Made with our ground beef, carrots, corn, peas, and topped with mashed potatoes makes a complete meal. Serves two average appetites or one hearty. Comes in a microwaveable container.
Lettuce
Menu Group: Food
Section: Vegetables

Vendor: Town Line Family Farm
A mixed lettuce of Red leaf lettuce, Butter crunch and Romaine
Spring Rhubarb
Menu Group: Food
Section: Vegetables

Vendor: Porter Hill Farm
Rainbow Chard
Menu Group: Food
Section: Vegetables

Vendor: Porter Hill Farm

Naturally Grown. Picked daily.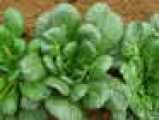 Vegetable Seedlings
Menu Group: Plants and Seeds

Vendor: Rasmussen Farm

Broccoli, Piracicaba non-heading: Fedco saya: "About halfway between a heading broccoli and a broccoli raab, these succulent tender small green heads with very large beads make delightful raw eating. Very loose heads, lots of side shoots, sweet stalks. Even the fairly large leaves make excellent greens. Garden writer Barbara Damrosch found it equally delicious steamed. "

Cauliflower, Charming Snow: A smallish early cauliflower. Some plants already starting to form heads!

Collards, Vates: Collard greens are a southern favorite, but they are very cold hardy and grow really well here.

Tatsoi (pictured): A cold hardy green, sort of a flattened pac choi, that forms a lovely rosette. It may not be the best choice for warm weather. Bu this is Maine: you never know what you're going to get. We started a lot of these but were unable to get them in the ground early due to wet soil.

Kale
- Beedy's Camden: Fedco Says: "Abundant wavy blue-green leaves are full to the bottom, not as tightly ruffled as Winterbor and can grow enormous. Cynthia Phinney calls it "the one kale that is tender and sweet enough to enjoy in summer." More tender than the Siberian types and lasts longer into the fall. " May be hardy enough to overwinter in some zone 4 locations.
- Rainbow Lacinato
- Red Russian

Tomatoes, Cherry
- Sun Gold: An orange cherry tomato, one of the sweetest and most loved.

Tomatoes, Paste
- San Marzano: Classic Italian paste tomato
- Vilms Plum Paste:Small plum tomatoes, highly productive, disease-resistant plants

Tomatoes, Slicing
- Garden Peach: Fedco says: "Yellow fruits blush pink when ripe and have thin fuzzy skins somewhat like peaches, soft-skinned, juicy and very sweet. Light fruity taste is not what you'd expect in a tomato. Burpee in 1893 called it "delicate, melting in the mouth like a grape." For well over a century savvy gardeners have brought Peach's little 2–4 oz fruits indoors before frost to keep for several weeks. "
- Spring Shine: Red slicing tomato. As the name implies, an early one.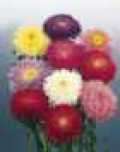 Princess Mix China Aster seedlings
Menu Group: Plants and Seeds
Section: Flowers Annual

Vendor: Rasmussen Farm

Fedco says: "2–3" flowers on long wiry stems. The pompon blooms with deeply crested centers are richly colored in shades of purple, salmon, magenta, rose and lavender. These elegant cutflowers tend to be late bloomers. Unsurpassed in September."