Greetings, Local Food Lovers!
Place your order from
Western Maine Market
today or by 6:00 A.M. tomorrow morning for pick-up or delivery this Friday or Saturday.
Sorry, but we will not be able to offer Rangeley delivery this week. It should be available again next week, weather permitting.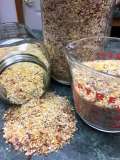 New and Returning Products

Freshly ground Certified Organic corn meal!
Menu Group: Food
Section: Grain Products

Vendor: Whitehill Farm

Freshly ground cornmeal ...Italian Florianni corn which is a beautiful orange with a creamy yellow interior. REALLY tasty! Corn bread recipes included!
Frozen Squash
Menu Group: Food
Section: Vegetables

Vendor: Rasmussen Farm

All of the squash offered by Rasmussen Farm this winter was grown by Island Farm and processed by Rasmussen Farm in our commercial kitchen. (We had no winter squash crop of our own in 2017.)

Butternut squash available peeled, cubed, uncooked or roasted and pureed.

Mixed squash puree: roasted, pureed, and frozen in one or two pound packages. We mix together at least three varieties of squash in each batch, including Butternut, Hubbard, Pink Banana, and/or Sweet Meat.