Happy Memorial Day, Local Food Lovers!
Place your order from
Western Maine Market
today or by 6:00 A.M. tomorrow morning for pick-up or delivery this Friday or Saturday.
.
Farmington's Farmers' Markets Open this weekend!
.

Farmington's farmers' markets are held

Fridays, across from the Better Living Center on Front St.. 9:00 a.m. to 12:30 p.m.

Saturdays, in the courthouse parking lot on Main Street, 9:00 a.m.-noon.

Farmington Friday pick-up of WMM orders will now be available at the market 11:00 a.m. to closing, or self-service at the Better Living Center from then until 3:00 p.m.
Saturday pick-up of online orders will be 10:00 a.m. to noon at the market in front of the courthouse.

Rasmussen Farm expects not to be at Saturday's market but will be at the Friday market for pre-orders only. WMM orders for Saturday will be available from another WMM vendor.

.
COVID-19 Precautions
The markets are taking extra precautions to keep ourselves and our customers safe.

We ask that you please not come to market if you or anyone in your household is feeling sick at all.
Also please:
- Wear a mask
- Keep 6' apart
- Do not touch anything unnecessarily.

Hand sanitizer will be available for use.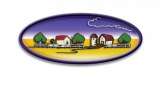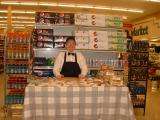 New Vendor
Knowlton Corner Farm, LLC
Located on 60 acres in the beautiful western mountains of Farmington, Maine, we are a diversified working farm which has been family owned & operated since 1997. We are best known for our famous pastry sticks, but yet there is so much more to our farm operation.

Over the years, our farming operation has changed, but today, we actively grow, cut and sell hay, provide riding lessons on our gentle mannered horses, manage vegetable gardens, raise chickens for farm fresh eggs, and operate a farm bake shop offering a variety of scrumptious pastries.
Our primary goal is to improve the lives of others around us by providing unique & interesting opportunities on our farm. We work quite a bit with disabled individuals, helping them to reach their full potential. We provide such individuals opportunities in our gardens and bake shop, or through interaction with our horses.
New and Returning Products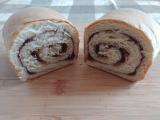 Cinnamon Bread
Menu Group: Food
Section: Baked Goods
Vendor: Knowlton Corner Farm, LLC
This soft white loaf has a lovely spiral of cinnamon & sugar inside. Ideal for cinnamon toast or French toast. Also makes a delicious PB&J sandwich.
Freezes well. Available full size or mini.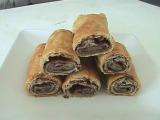 Pastry Sticks
Menu Group: Food
Section: Baked Goods
Vendor: Knowlton Corner Farm, LLC
Flaky pastry sticks - a great go-to treat, or try them as a heavenly dessert by heating & serving with ice cream. Having company? Cut them into bite sized pieces & serve with coffee or tea. Your guests will love them. No additives or preservatives. Made from scratch, by hand. Freeze well.

Amazing Apple: filled with apple, cinnamon, sugar & nutmeg, just like apple pie.
Chocolate: filled with a decadent chocolate. When heated & topped with whipped cream, it is similar to chocolate cream pie, as customers have told us.
Marvelous maple: filled with luscious maple & sugar
Rockin Raspberry: One of our most popular flavors.
Simply Scrumptious Cinnamon: filled with Cinnamon & Sugar, just like grandma used to make.
No additives or preservatives. Made from scratch, by hand. Can be frozen.
Carrabassett Coffee
Menu Group: Food
Section: Coffee and Tea
Vendor: Carrabassett Coffee Company
Carrabassett Coffee is back. Java Joe's will reopen Saturday. As long as they remain open, we intend to offer coffee weekly. Coffee will be delivered whole bean unless you use the order note at checkout to state a preference for drip, perc, fine, espresso, or French press grind.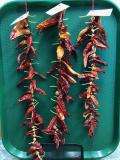 Ristras
Menu Group: Food
Section: Dried Food
Vendor: Whitehill Farm
Our own Certified Organic hot peppers ...Matchbox and Spitfire. Medium- to moderately-hot! Will keep their heat almost indefinitely ...break one off for seasoning and enjoy the rest for decoration. Can also be stored in an airtight bag.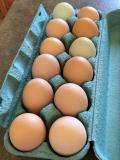 Eggs
Menu Group: Food
Section: Eggs
Vendor: Avon Fields
Vendor: Avon Fields
Farm Fresh Eggs - Organic(pictured)
Simply the sunniest yellow yolks in these farm fresh eggs, 1 dozen, from pastured raised hearty hens, fed organic, non-GMO feed.

Vendor: Knowlton Corner Farm, LLC
Farm fresh eggs from our happy chickens.

Beef
Menu Group: Food
Section: Meat
Vendor: Sillanpaa Family Farm
Local, Grass Fed, No Additives:
Burger patties: Our meat in 1/3lb Burger Patties, 3 per pack
Garlic Burger Patties, you've got to try these!
No mess, straight from package to grill! 1/3lb
Stew Meat
T-Bone Steak (pictured)
Lamb Stew Meat
Menu Group: Food
Section: Meat
Vendor: Sillanpaa Family Farm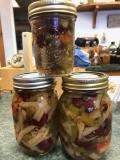 Pickles
Menu Group: Food
Section: Preserved Foods
Vendor: Martin Woods Farm
Piccalilli with Cauliflower

Vendor: Whitehill Farm
3 Bean Salad (pictured) Sweet and tart traditional pickle: onions, celery, sweet peppers, green, yellow and kidney beans. Great for Thanksgiving.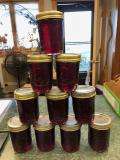 Jam & Jelly
Menu Group: Food
Section: Preserved Foods
Vendor: Whitehill Farm
Blackberry Jelly: Rich and delicious, from a bumper crop of blackberries ...jelly is dark, rich, sweet, and satisfying!
Raspberry Jam: Summer in a jar! Brilliant red berries from our farm and Counterpoint Farm in Jay. Perfect for morning toast or PB & J!
Beet Greens
Menu Group: Food
Section: Vegetables
Vendor: Porter Hill Farm
tender and young. Grown naturally in our greenhouse.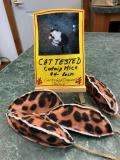 Catnip mice!
Menu Group: Home and Garden
Section: Pet Supplies
Vendor: Whitehill Farm
Fun fabric and Certified Organic catnip! Hand made!
Purrfect cat toys, and Quality Tested by cats!
Herb plants
Menu Group: Plants and Seeds
Section: Herb Plants
Vendor: Martin Woods Farm
Catnip seedlings


Vendor: Rasmussen Farm
Catnip plants
Rosemary: well-rooted cuttings from our Gorizia rosemary plants
Sage: Broadleaf sage seedlings

Hemp seedlings
Menu Group: Plants and Seeds
Section: Herb Seedlings
Vendor: LoveGrown
'BaOx F1' Hemp REGULAR (male and/or female) seedlings
$30/six-pack of regular hemp seedlings, MOFGA-certified seeds and soil, DACF-registered and approved varietal.

All adult Maine residents may have up to three mature female flowering hemp plants in their gardens with no licensing required. Growing more than three female hemp plants to maturity in a season requires a license, which may be obtained through the Maine Department of Agriculture, Conservation and Forestry.

This varietal has been proven over multiple seasons in Maine and produces multiple green and purple phenotypes of flowers at maturity.

This pack of seedlings will in all likelihood contain male plants as well as female plants. Monitor your plants closely for signs of sexual expression. Remove plants expressing pollen sacs instead of/in addition to white flower pistils, as these plants will produce seeds in your (and potentially your neighbor's!) final crop.
Hemp seeds
Menu Group: Plants and Seeds
Section: Seeds Herbs
Vendor: LoveGrown
'BaOx F1' MOFGA-certified/DACF-approved tested regular hemp seeds
See website for more details at
www.lovegrownhemp.com
This regular seed lot has been field-tested for multiple seasons and grown by many of our farmer-partners. It's one of the varietals in our proprietary mixture of hemp flower extracts. You will find multiple desirable phenotypes in this seed lot, expressing green and purple colors and up to 14% CBD content at maturity.
This seed lot will produce both male and female individual plants. Males will produce pollen, and in turn will produce seeds in nearby female plants. To grow seedless female flowers only, remove/cut all male plants before the pollen sacs have opened.
**Responsible hemp farmers will check with their neighbors before growing hemp for a grain crop, since pollen can fly miles on the wind and pollinate other nearby female plants.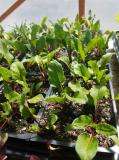 Beet seedlings - Red Ace
Menu Group: Plants and Seeds
Section: Vegetable Starts
Vendor: LoveGrown
Red Ace organic beet seedlings, grown in Living Acres soil.
6-pk, ready to transplant into your garden this weekend!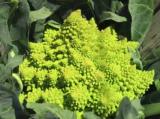 Broccoli seedlings
Menu Group: Plants and Seeds
Section: Vegetable Starts
Vendor: Rasmussen Farm
Fractal

Piracicaba (pictured) Fedco says: "About halfway between a heading broccoli and a broccoli raab, these succulent tender small green heads with very large beads make delightful raw eating. Very loose heads, lots of side shoots, sweet stalks. Even the fairly large leaves make excellent greens. Garden writer Barbara Damrosch found it equally delicious steamed."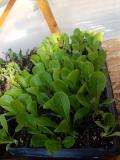 Parris Island Romaine seedlings
Menu Group: Plants and Seeds
Section: Vegetable Starts
Vendor: LoveGrown
6-pack (in cups/bags) of organic Parris Island Romaine lettuce starts
Harris Organic seeds and Living Acres soil.
Ready for immediate planting!
Apologies for the shortage of seedlings available on our website at the moment.
There are more to come! If you're looking for something you don't see here, send and email to
info@westernmainemarket.com
and we'll try to find what you're looking for.
There will be plants and seedlings available at both farmers' markets this weekend.
Whitehill Farm will have seedlings by appointment only, 10am-3pm Monday through Friday of next week. Please call first. 778-2685.