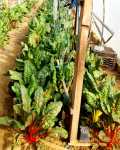 April 18: Dutton's Chard Price change
Dutton's chard special price is now --15 or more for $1.25/bunch. Sorry for the mistake!
Order on-line at
www.windhamfarmandfood.org
or call me by Next Monday Morning April 23 ,by 10am (...but remember to order Fresh Bread and Bagels by Saturday night!)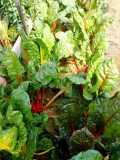 FEATURE INVENTORY 15 bunchs plus
Description: 15 bunchs plus
Vendor: Dutton Berry Farm
Unit: Bunch
Price: 1.00
Weight:
15 or more bunches @ $1.00 each

FEATURE INVENTORY Baby Pea Sprouts
Category: Sprouts & Shoots
Description: Baby Pea Sprouts
Vendor: The Gill Greenery
Unit: lb.
Price: 7.00
Weight: 1.00
ea Shoots are low in fat and with just 9 calories per 50g bag and 14 calories per 80g vegetable portion (equivalent to a cereal bowlful), they are a delicious addition to any diet. Quick to prepare they provide a tasty and convenient way to help people achieve their '5 a day' – especially as they are ideal partners for other vegetables whether served hot or as part of a mixed salad. Daily salad eaters have also been found to have better intakes and blood levels of vitamin C, folic acid and carotenoids such as beta-carotene (which the body can convert to vitamin A)
FOOD
SECTION
CATEGORY
DESCRIPTION
FARM
Baked Goods
Bagels
2.5 oz. everything
Elm City Bagels & Deli
Baked Goods
Bagels
2.5 oz. plain
Elm City Bagels & Deli
Baked Goods
Bagels
2.5 oz. poppy seed
Elm City Bagels & Deli
Baked Goods
Bagels
2.5 oz. sesame seed
Elm City Bagels & Deli
Baked Goods
Bagels
4.2 oz. cheddar spinach
Elm City Bagels & Deli
Baked Goods
Bagels
4.2 oz. cinnamon raisin
Elm City Bagels & Deli
Baked Goods
Bagels
4.2 oz. energy
Elm City Bagels & Deli
Baked Goods
Bagels
4.2 oz. parmesan pepper
Elm City Bagels & Deli
Baked Goods
Bagels
4.2 oz. rosemary
Elm City Bagels & Deli
Baked Goods
Bagels
4.2 oz. sunflower raisin
Elm City Bagels & Deli
Baked Goods
Bagels
4.2 oz. whole wheat
Elm City Bagels & Deli
Baked Goods
Granola
Back Roads Granola
Back Roads Granola
Baked Goods
Granola
Gluten Free Apricot Granola
True North Granola Company
Baked Goods
Granola
Gluten-free Ginger-Pineapple Granola
True North Granola Company
Baked Goods
Granola
Go Nuts Granola
True North Granola Company
Baked Goods
Granola
Granola Blues
True North Granola Company
Baked Goods
Granola
Wholly Granola
True North Granola Company
Baked Goods
Pies
Chicken Pot Pie
Just Pies
Baked Goods
Pies
Cream Pies
Just Pies
Baked Goods
Pies
Farmer's Pie
Just Pies
Baked Goods
Pies
Maple Pecan Pie
Just Pies
Baked Goods
Pies
Old Fashioned Apple Pie
Just Pies
Baked Goods
Pies
Pumpkin
Just Pies
Baked Goods
Pies
Vegetable Pot Pie
Just Pies
Beverages
Cider
1/2 gallon, UV treated, fresh pressed
Dutton Berry Farm
Beverages
Cider
Fresh Pressed (10 or more)
Dutton Berry Farm
Beverages
Cider
Fresh Pressed (under 10 gallons)
Dutton Berry Farm
Dairy
Cheese
1 Year Premium Cheddar Cheese
Grafton Village Cheese
Dairy
Cheese
1 Year Premium Cheddar Trim
Grafton Village Cheese
Dairy
Cheese
2 Year Cheddar Trim
Grafton Village Cheese
Dairy
Cheese
Maple Smoked Cheddar
Grafton Village Cheese
Dairy
Cheese
Maple Smoked Cheddar Trim
Grafton Village Cheese
Dairy
Yogurt
Non fat Greek: Maple (6 oz)
Commonwealth Dairy
Dairy
Yogurt
Non Fat Greek: Blueberry (6 oz)
Commonwealth Dairy
Dairy
Yogurt
Non Fat Greek: Peach (6 oz)
Commonwealth Dairy
Dairy
Yogurt
Non Fat Greek: Plain (6 oz)
Commonwealth Dairy
Dairy
Yogurt
Non Fat Greek: Strawberry (6 oz)
Commonwealth Dairy
Dairy
Yogurt
Non Fat Greek: Vanilla (6 oz)
Commonwealth Dairy
Fruits and Berries
Apples
Cortland
Green Mountain Orchards
Fruits and Berries
Apples
Crisp Red Eating--Best Pick
Green Mountain Orchards
Fruits and Berries
Apples
Honey Crisp Fancy
Green Mountain Orchards
Fruits and Berries
Apples
Macintosh
Green Mountain Orchards
Grain Products
Cereals
Back Roads Granola
Back Roads Granola
Grain Products
Cereals
Oats So Good, a Museli
True North Granola Company
Herbs
Cilantro
Fresh-cut bunches
Dutton Berry Farm
Herbs
Rosemary
Fresh Cut Bunches
Dutton Berry Farm
Herbs
Rosemary
Fresh-cut Bunches
Dutton Berry Farm
Poultry
Whole Chicken
Organic, free range, fresh frozen-see note
Westminster Organics
Prepared Foods
Frozen Items
Oragnic Butternut Squash
Westminster Organics
Vegetables
Carrots
Grade A
Dutton Berry Farm
Vegetables
Carrots
Grade B
Dutton Berry Farm
Vegetables
Corn
7# organic frozen corn
Westminster Organics
Vegetables
Kale
Red kale
Dutton Berry Farm
Vegetables
Onions
Organic Yellow Storage
Walker Farm
Vegetables
Parsnips
Westminster Organics
Vegetables
Potatoes
Org. Bite-Size Superior White
Walker Farm
Vegetables
Potatoes
Red Potatoes,washed
Dutton Berry Farm
Vegetables
Potatoes
Red, Unwashed
Dutton Berry Farm
Vegetables
Potatoes
Washed Yukon Gold (reduced price--see note),
Dutton Berry Farm
Vegetables
Potatoes
White potatoes,washed
Dutton Berry Farm
Vegetables
Potatoes
White, Unwashed
Dutton Berry Farm
Vegetables
Sprouts & Shoots
Alfalfa Sprouts
The Gill Greenery
Vegetables
Sprouts & Shoots
Broccoli Sprouts
The Gill Greenery
Vegetables
Sprouts & Shoots
Salad Mix Sprouts
The Gill Greenery
Vegetables
Squash Winter
Organic Pealed Butternut, cooked and frozen
Westminster Organics
Inventory Info Last Updated: 2012-04-19 11:34