Farm-to-Table's New Process!!!

Order Tuesday for Wednesday Delivery

The market will not be open until Tuesday August 7 for a Wednesday Delivery on August 8, 2012
Dear Farm-to-Table Participants and customers,

We are implementing some new processes and procedures for Farm-to-Table starting this next week. Instead of Ordering food by Friday for a Tuesday delivery, we will be opening the market on Tuesday. You will order on Tuesday for Wednesday Delivery.

I repeat: Order Tuesday, August 7, for Wednesday Aug 8 delivery.

This is going to solve the issue of ordering food and it not showing up. Food is still going to be fresh picked on Monday and Tuesday; however, we are going to have a more accurate inventory on Monday for Tuesday's ordering process.

Also, for those of you who rely on food for the weekend, Wednesday is that much closer!!

I will be contacting many of you directly to discuss this shift in procedure and how this will continue to operate into the fall harvest season.

Our intention is to work with you all to provide a high quality, reliable distribution service of fresh local foods. We are accomplishing this by responding to the needs of our customers (thats you) and adjusting our procedure accordingly!

If you have any questions, please feel free to contact me anytime!

In gratitude,

Daniel Stein
FTT Market Manager
802.595.1325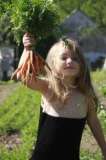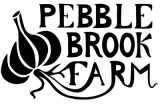 Feature Vendor
Pebble Brook Farm
Pebble Brook Farm is a certified organic vegetable, herb and cut flower farm located in the little village of West Brookfield, half way between Northfield and Randolph. Owned and operated by Chip Allen Natvig. Pebble Brook Farm offers CSA shares as well as a wide variety of veggies and culinary herbs.
www.pebblebrookfarmvt.blogspot.com
[email protected]
CARROTS!!!!!!!.Beautiful mid sized carrots. Not yet too big and no longer too small, but oh so sweet!
New lower mesclun price!