New and Returning Products

Vegan Bread
Menu Group: Food
Section: Baked Goods
Vendor: Beehive Bakery

All VEGAN. No butter, eggs or milk

Garlic Herb Round: Herbs of the morn from my garden- plus garlic added in.
Some days you'll get rosemary, chives, oregano and basil, or one of them or all together! It depends on my whim.
Good, wholesome light wheat flour mixed with unbleached all-purpose King Arthur with sour dough starter.,

Light Wheat Sandwich Bread: Loaf with light wheat flour, olive oil, sourdough starter, yeast, honey, unbleached King Arthur flour, salt.

Sourdough Rye: Organic Rye Flour used. with my own sourdough starter. Olive Oil, salt, water, honey ( our own), yeast and King Arthur unbleached flour .
Black raspberries
Menu Group: Food
Section: Fruits and Berries

Vendor: Rasmussen Farm

Delicious berries! Larger than red raspberries, with a hollow core unlike blackberries. At Rasmussen Farm we grow all our berries naturally--never spray them.
The Oregon Raspberry & Blackberry Commission calls black raspberries: "The king of berries in terms of health benefits." Read why at /www.oregon-berries.com/pick-a-berry/black-raspberry/
Jam
Menu Group: Food
Section: Preserved Foods
Category: Jams Jellies Butters & Spreads

Vendor: Beehive Bakery

Autumn Berry: a unique sour/sweet flavor, thick-ish spread, good on toast and muffins or stirred into hot night teas. It is high in lycopines which help our immune system . We collect the berries in wild areas along field edges in late autumn.

Maine Peach: Yes, we had a good peach season! Our own peach trees produced well! Thick and delightful this jam is good on toasts, in yogurts and smoothies! Natural grown fruit.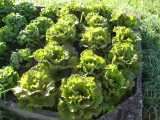 Green Romaine
Menu Group: Food
Section: Vegetables

Vendor: Whitehill Farm

Beautiful green Romaine type lettuce, whole head with tight center. Huge, juicy, and tasty!
Rainbow Carrots
Menu Group: Food
Section: Vegetables

Vendor: Rasmussen Farm
A mix of colors and sizes. White, yellow, orange, red and purple beauties, avilable with or without greens. The greens are delicious to munch by themselves, in salads, or steamed.
Find carrot top recipes & info at
www.carrotmuseum.co.uk/carrotops.html