Greetings, Local Food Lovers!
Place your order from
Western Maine Market
today or by 6:00 A.M. tomorrow morning for pick-up or delivery this Friday or Saturday.

Events

HOLOCAUST SURVIVOR SPEAKS AT CVPL TOMORROW
Edith Lucas Pagelson will be speaking in the Begin Family Community Room at the Carrabassett Valley Public Library & Community Center at 6:00pm, this Thursday, the 6th of October. She is a Falmouth, ME resident and Holocaust survivor. This book talk is free and open to the public.
www.pressherald.com/2012/04/28/life-story_2012-04-29/


FARMERS' MARKETS CONTINUING
Rangeley's Tuesday market, 11-2 at the intersection of Route 4 and South Shore Drive, will continue for one more week.
Both of Farmington's outdoor markets, Fridays 9-2 on Front St across from the Better Living Center and Saturdays 9-noon on Main St in the Courthouse parking lot, continue through the month of October. Starting Saturday the 5th of November,
Farmington's winter market will open in the Grange Hall in West Farmington.
And of course Western Maine Market continues to operate year-round.

PORTER HILL BACK NEXT WEEK
Porter Hill products are not available this week, but will return next week
New and Returning Products

Cookies
Menu Group: Food
Section: Baked Goods

Vendor: Beehive Bakery

Macaroons: made with coconuts , with egg whites, vanilla, sugar added. GLUTEN FREE

Scotch Shortbread: traditional Scottish shortbread recipe. We make it extra thick. We used to live in Scotland and love these.
Everything Bagels
Menu Group: Food
Section: Baked Goods

Vendor: Beehive Bakery

Homemade bagels --risen, boiled, baked. Large, delicious, onion, garlic, poppy and sesame seeds
Bread
Menu Group: Food
Section: Baked Goods

Vendor: Beehive Bakery

Cottage Oat Loaf: A British Isles round loaf made with rolled oats, Light Wheat and Special unbleached King Arthur flours, honey, baking yeast, salt, water, olive oil. Vegan- no milk, eggs.

Sourdough Rye: Rye Flour, sourdough starter. Olive Oil, salt, water, honey ( our own), yeast and King Arthur unbleached flour . VEGAN. No butter, eggs or milk
Duck eggs
Menu Group: Food
Section: Eggs

Vendor: Beehive Bakery

Large duck eggs! Good for baking -- and for omelets,. High in protein, they equal an egg and a half of chicken eggs recipes.
Garlic Scape Puree
Menu Group: Food
Section: Prepared Foods

Vendor: Whitehill Farm

Made with our own Certified Organic garlic scapes and olive oil. Use to start many recipes. It's also great mixed with butter for garlic bread! Can be divided into smaller containers and refrozen. Must be refrigerated.
Jam & Jelly
Menu Group: Food
Section: Preserved Foods
Category: Jams Jellies Butters & Spreads

Vendor: Beehive Bakery

Concord Grape Jelly: Traditional flavor of a concord grape, these lovely grapes are homegrown naturally- large and thick of essence. Better than the store varieties, we think!

Crabapple Jelly: This crab apple jelly goes well on morning muffins, toasts, plain crackers. Memories of childhoods and grandmothers making this. These fruits are naturally grown and processed. Fresh spring water, crab apples, pectin, sugar- all naturally grown

Fresh Blueberry Jam: All natural, handpicked, high bush blueberries. These are especially large this year. Made with freshly picked berries, pectin, sugar

Fresh Peach Jam: Newly made fresh peach jam . Peaches, sugar, pectin. No sprays, all naturally grown peaches.

White Grape Jelly: From our own grapes- lovely and sweet- grapes, spring water, pectin, sugar. All naturally grown.

Wild Grape Jelly: Picked from summer's bounty of our own naturally grown grapes. The wild grape jelly has many hidden flavors as you taste it. Also called "Fox Grape". We use these pure grapes, fresh spring water, sugar and pectin.
Pac choi (bok choy)
Menu Group: Food
Section: Vegetables
From Rasmussen Farm
Pac choi (bok choy), small: A Chinese cabbage with edible stems and leaves. Try it in
sesame pac choi
or www.1chinesefoodrecipes.com/chinese-recipe/vegetables-recipes/recipes-pak-choi.php [stir-fried pac choi.]
From Whitehill Farm
Bunch of 3 Dwarf Bok Choys, each 3-5" tall. Crisp green or white stems and dark green glossy leaves
Chinese Cabbage
Menu Group: Food
Section: Vegetables

Vendor: Rasmussen Farm

Chinese cabbage with large leaves, not formed into a tight head. Good sauteed with other veggies, in eggrolls or in salads.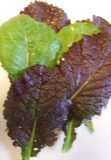 Mustard Greens
Menu Group: Food
Section: Vegetables

Vendor: Rasmussen Farm

Peppery mustard greens are filled with nutrients, can be eaten raw or cooked. These are mostly red leaved, some green leaved. All red available on request.
Miniature pumpkin
Menu Group: Food
Section: Vegetables

Vendor: Rasmussen Farm

Jack-be-little miniature pumpkins are both decorative and edible. Try scooping out the interior and serving them as individual bowls for soups, casseroles or pumpkin pudding.
Bundle of corn stalks
Menu Group: Home and Garden
Section: Cut Flowers

Vendor: Rasmussen Farm

Corn stalks, bundled for Fall decoration. Afterwards, they can be stored away for re-use, composted, or used for kindling.