Greetings, Local Food Lovers!
Place your order from
Western Maine Market
today or by 6:00 A.M. tomorrow morning for pick-up or delivery this Friday or Saturday.

"Tell a Friend" discount

This week and next, tell a friend / neighbor / co-worker / etc. about Western Maine Market and both of you will get a 10% discount off your order total. To get the discount, use the "Keep Your Money Local" payment option and pay with cash, check, or gift certificate on delivery. This offer is not valid for orders paid with PayPal. Please use the order note at checkout to let us know the name of your partner-in-discount.
New and Returning Products

Plain English Muffins
Menu Group: Food
Section: Baked Goods

Vendor: Beehive Bakery

Made in the Beehive kitchen with an English Crumpet recipe by a British man. ( who says in England there is no such thing as an English Muffin). Baked as you would an Enlglish muffin over here
Jam!
Menu Group: Food
Section: Preserved Foods
Category: Jams Jellies Butters & Spreads

Vendor: Whitehill Farm

Beautiful Golden PEACH Jam! Golden peaches transformed into a delicious jam. Locally grown peaches lavingly canned here at Whitehill Farm!

Golden Plum Jam, Limited Edition!
Kennebec potatoes -seconds SALE
Menu Group: Food
Section: Vegetables

Vendor: Porter Hill Farm

Nice large potatoes. A moderate amount of scab on the skins - cosmetic - still a great potato.
Great baked, boiled, in potato salad or in soups. Potato Leek soup anyone?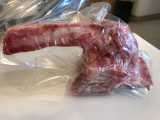 Bones for dogs
Menu Group: Home and Garden
Section: Pet Supplies

Vendor: Riverweb

all vacuum sealed