GREETINGS, LOCAL FOOD LOVERS!
Place your order from
Western Maine Market
today or by 6 am tomorrow morning for pick-up or delivery this Friday or Saturday.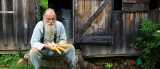 Film viewing
Seed: The Untold Stroy

Catch this film next Monday the 17th at 10 pm on Maine Public Television. Featuring Franklin County's own Will Bonsall, this film "reveals the work of farmers, scientists, lawyers, and indigenous seed keepers who are fighting a David versus Goliath battle to defend the future of our food. In a story both harrowing and heartening, we meet a wide variety of reluctant heroes working to rekindle a lost connection to our most treasured resource, from the pueblos of New Mexico to a seed bunker in Norway, from India to America's heartland, from Peru to Hawaii. Among the dozens of people featured are Will Bonsall of the Scatterseed Project, Dr. Jane Goodall, environmental lawyer Claire Hope Cummings, ethnobotanist Gary Paul Nabhan, botanical explorer Joseph Simcox, Andrew Kimbrell of the Center for Food Safety, and physicist/activist Dr. Vandana Shiva."


NEW AND RETURNING PRODUCTS
Cookies
Menu Group: Food
Section: Baked Goods

Vendor: Beehive Bakery

Chocolate Chip: Flour, sugar, eggs, salt, baking powder, butter

Oatmeal Raisin: Traditional cookies, chewy.

Thumbprint: Delicious cookies made with our own jams, King Arthur unbleached flour, sugar, salt, baking powder, eggs, butter
Cranberry English Muffins
Menu Group: Food
Section: Baked Goods

Vendor: Beehive Bakery

A large and very popular English Muffin with cranberries throughout.. Made from an English crumpet recipe.( and baked by a Brit! whose mother made these). Flour, milk,butter, baking soda, salt, yeast, spring water,
Sweet Cherry Jam
Menu Group: Food
Section: Preserved Foods
Category: Jams Jellies Butters & Spreads

Vendor: Beehive Bakery

Our own cherries from the Syberian Sweet Cherry Tree.
Loose leaf lettuce mix
Menu Group: Food
Section: Vegetables

Vendor: Porter Hill Farm

Spring has sprung in our greenhouse!
Glad to offer fresh greens which have overwintered.