Greetings, Local Food lovers!
Place your order from
Western Maine Market
today or by 6 am tomorrow morning for pick-up or deliver this Friday or Saturday.
New and Returning Products

Bagels
Menu Group: Food
Section: Baked Goods

Vendor: Beehive Bakery

Blueberry: Made with sourdough starter added to the dough, wild blueberries, boiled in fresh spring water from our local spring. Baked and off to you. We use the Montreal bagel recipe. Not New York.

Cranberry: Jonathan, the bagel baker puts New England Cranberries throughout his bagel dough and adds in our sourdough starter to it. Boils it the Montreal style way -see other bagel descriptions- and bakes it fresh for you.

Everything: To the dough is added- sourdough starter and then the bagels are boiled briefly in the Montreal style then baked. Everything is put throughout the dough. Yum

Homemade Sourdough Garlic: Made in Montreal style using our own honey in our local spring water boiling bath- this gives them a special coating not sweet - perfect. Garlic throughout the dough not just on the top of each bagel.

Poppy Seed: Poppy Seeds don't just top each bagel- they are throughout and inside it. Made with sourdough starter added to the dough- the bagels then are boiled in our own honey spring water pot then baked.

Sesame Seed Sourdough: Sesame seeds are added throughout the dough. Bagels are boiled in fresh local spring water - three minutes- then baked. A wonderful experience.

ALL OUR BAGELS ARE VEGAN- no dairy and no eggs.
Chocolate Chip Cookies
Menu Group: Food
Section: Baked Goods

Vendor: Beehive Bakery

Flour, sugar, eggs, salt, baking powder, butter
Crumpet Muffins
Menu Group: Food
Section: Baked Goods

Vendor: Beehive Bakery

Large soft crumpet muffins - made with spring water, whole local milk, butter, King Arthur unbleached All-Purpose flour, yeast, baking powder, salt.
Zesty Ranch Rub!
Menu Group: Food
Section: Herbs

Vendor: Whitehill Farm

Unique rub for baking or grilling beef, chicken, or pork! Blend of Ranch Dressing Mix, Garlic Salt, Paprika, Cane Sugar, Pepper, and Spices! A blend that will get your attention! Versatile and tasty!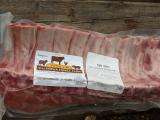 Pork
Menu Group: Food
Section: Meat

Vendor: Sillanpaa Family Farm

Happy Spring from SFF! We have put all of our roast and ham inventory up this week in advance of the holidays. If you have never tried a farm-raised ham I heartily encourage it. There is no comparison to anything you are familiar with from the supermarket. There are plenty of different pork roast to chose from as well. And don't forget something for breakfast :)


Pork Loin Roast, bone-in (pictured)

Breakfast Sausage Links! Our sausage made into links, 6 per pkg
Jam
Menu Group: Food
Section: Preserved Foods

Vendor: Beehive Bakery

Blackberry: made with blackberries, pectin, sugar and spring water

Blueberry: Newly picked blueberries which we made into jam! Blueberries, pectin, sugar

Fresh Peach: Our popular peach jam . Made with our own peaches, sugar, pectin. No sprays, naturally grown peaches.

Rhubarb Ginger: This spring is great for rhubarb!!! Our newest batch made from freshest rhubarbs and ginger root. You put it on breads, muffins, and stir a tsp or two into hot tea before bed. Excellent for the cool spring nights, or any time of year!

Sour cherry: a favorite. made with sour cherries, tart. good at breakfast with a muffin.
A Colorful mix of carrots - LARGE
Menu Group: Food
Section: Vegetables

Vendor: Porter Hill Farm

Mix of orange, Yellow, White.
Grown naturally as is all our produce.
HOT! Cider Vinegar with Hot Peppers
Menu Group: Food
Section: Vinegars and Oils

Vendor: Whitehill Farm

Certified Organic Cider Vinegar steeped with hot peppers. Perfect for dressings and marinades.