Greetings, Local Food Lovers!
Place your order from
Western Maine Market
today or by 6:00 A.M. tomorroww morning for pick-up or delivery Friday or Saturday.

New and Returning Products
Raspberries
Menu Group: Food
Section: Fruits and Berries
From Porter Hill Farm
Red Raspberries: Will be freshly picked the day you receive them!
From Rasmussen Farm
At Rasmussen Farm we grow all our berries naturally--never spray them.
Black Raspberries: Delicious berries! Larger than red raspberries, with a hollow core unlike blackberries. The Oregon Raspberry & Blackberry Commission calls black raspberries: "The king of berries in terms of health benefits." Read why at
www.oregon-berries.com/pick-a-berry/black-raspberry
Mixed raspberries: A mix of our red and black raspberries, with perhaps a few golden raspberries included if available.
Red Raspberries: Ripe raspberries: incredibly tender, juicy, and delicious. Enjoy them while you can! The season is short and they need to be eaten within a day or two of picking.
Amaranth greens - green
Menu Group: Food
Section: Vegetables

Vendor: Rasmussen Farm

Highly nutritious, these greens are loaded with vitamins and minerals. Young leaves are great in salads, more mature greens and stems are great cooked, especially in stir fries.
Beets
Menu Group: Food
Section: Vegetables

From Porter Hill Farm

Beets with greens - medium beets: Dark red beets 1.5 lbs per Avg bunch. Naturally grown

Beets with greens - small beets: 1+ lb bunch.Naturally grown. No spray. No chemical fertilizers.


From Rasmussen Farm

Golden Beets with greens, small to med. beets: Lovely golden beets, a pound or more. Greens are all green.
Greens with baby beets attached, mixed colors
Menu Group: Food
Section: Vegetables

Vendor: Rasmussen Farm

We are growing red, golden, Chioggia, and even white beets. So there's a variety of colors both in the beets themselves and in their greens.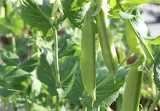 Peas
Menu Group: Food
Section: Vegetables

From Porter Hill Farm

Shell Peas

Snow peas: Wonderful pea with edible pod. Unlike sugar snap peas, you will want to string these, steam, or saute in butter, or add to stir fry. (Not as good raw as the sugar snap but wonderful cooked. A common Asian vegetable.)

Sugar Snap


From Rasmussen Farm

English Peas (shell peas): Fresh green peas for shelling. You don't eat the pods, but can use them to make a soup base. 1 lb may sound like a lot, but once you get the peas out of their pods it isn't so much after all.

True "Sugarsnap" Snap peas (pictured): Peas with edible pods, just pull off the stem. Snap peas are bigger and sweeter than snow peas. According to the Fedco Seeds catalog Sugarsnaps are, "One of the very best raw treats in the garden, far tastier than the dwarf varieties…. Pods reach superb sweetness only when completely filled. Then they are incomparable." Most commercial growers grow "dwarf" snap pea varieties, since the shorter plants require less work to grow. Try these Sugarsnaps for a real pea-lover's treat!