Greetings, Local Food Lovers!
Place your order from
Western Maine Market
today or by 6:00 A.M. tomorrow morning for pick-up or delivery this Friday or Saturday.

"Tell a Friend" discount

This week and next, tell a friend / neighbor / co-worker / etc. about Western Maine Market and both of you will get a 10% discount off your order total. To get the discount, use the "Keep Your Money Local" payment option and pay with cash, check, or gift certificate on delivery. This offer is not valid for orders paid with PayPal. Please use the order note at checkout to let us know the name of your partner-in-discount.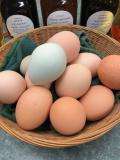 FEATURE INVENTORY
Whew, winter is here ...the NEW hens are laying! All different sizes, all delicious!
Menu Group: Food
Section: Eggs
Vendor: Whitehill Farm
Our hens are enjoying goodies: veggie scraps - coming from the House and Garden Kitchens AND the fresh green that we grow for them all winter! Fresh eggs are are a perfect portion of protein!
FEATURE INVENTORY
Frozen black raspberries
Menu Group: Food
Section: Fruits and Berries
Vendor: Rasmussen Farm
FEATURE INVENTORY
Traditional pesto with pine nuts & Parmesan, frozen, 6 - 1 oz cubes
Menu Group: Food
Section: Prepared Foods
Vendor: Rasmussen Farm
A traditional smooth pesto made with our fresh homegrown basil, extra virgin olive oil, pine nuts, Parmesan cheese, our homegrown garlic, sea salt, and black pepper. Frozen in 1 ounce cubes, 1-2 servings per cube. Package of six cubes, vacuum sealed together.

FEATURE INVENTORY
Carrot sticks of many colors - ready to eat!
Menu Group: Food
Section: Vegetables
Vendor: Rasmussen Farm
White, yellow, purple, orange, and red beauties: peeled, cut, and ready to eat. Perfect size for snacking or serving with dip!
FEATURE INVENTORY
Red Gold Potatoes
Menu Group: Food
Section: Vegetables
Vendor: Rasmussen Farm
Maine Potato Lady says: "Always one of my favorites. Boiled or steamed and tossed with butter, salt, and parsley, these will melt in your mouth. Rose red skin wraps around deep yellow flesh."
FEATURE INVENTORY
2.5# Butternut Squash - SECONDS
Menu Group: Food
Section: Vegetables
Vendor: Porter Hill Farm
The lower part of the squash is getting soft, wrinkled, but the neck where most of the flesh is remains firm. Should be used within a week or so. Avg 2.5 lbs. Range 2-3 lbs