Greetings, Local Food lovers!
Place your order from
Western Maine Market
today or by 6:00 A.M. tomorrow morning for pick-up or deliver this Friday or Saturday.

Last week for 10% discount offer

Reminder: Pay full price for your first order of $20 or more to be delivered in the month of February, then get 10% off any additional orders placed for February pick-up or delivery if paying with cash or check. The discount will not be reflected in your order email, but we can send you a separate email with your revised total.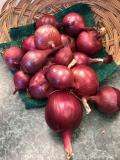 ON SPECIAL! Beautiful red ONIONS
Menu Group: Food
Section: Vegetables

Vendor: Whitehill Farm

Bright pungent flavor, many sizes. At least 2 lb/bag.
Certified Organic by MOFGA. Lovely red with a great flavor. Our favorite onions for cooking and fresh eating!