Happy March, Local Food lovers!
Despite all appearances to the contrary, Spring is getting closer!
Place your order from
Western Maine Market
today or by 6:00 A.M. tomorrow morning for pick-up or deliver this Friday or Saturday.
New and Returning Products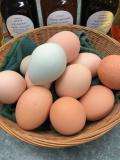 Eggs
Menu Group: Food
Section: Eggs

Vendor: Whitehill Farm

Whew, winter is here ...the NEW hens are laying! All different sizes, all delicious! Our hens are enjoying goodies: veggie scraps - coming from the House and Garden Kitchens AND the fresh green that we grow for them all winter! Fresh eggs are are a perfect portion of protein!
Jam & Jelly
Menu Group: Food
Section: Preserved Foods

Vendor: Beehive Bakery

Crabapple jelly: goes well on our crumpet muffins,sourdough toasts. We hear many stories about this jelly from our customers, describing their memories of childhoods and grandmothers who made this jelly. It's very popular and sells quickly in our markets and stores we sell in. These fruits are naturally grown. Fresh spring water, crabapples, pectin, sugar.

Rhubarb Ginger Jam: made from freshest rhubarbs and ginger root. You put it on breads, muffins, and stir a tsp or two into hot tea before bed. Excellent for cool spring nights, or any time of year!
German Butterball Potatoes
Menu Group: Food
Section: Vegetables

Vendor: Porter Hill Farm
Butternut Squash
Menu Group: Food
Section: Vegetables

Vendor: Porter Hill Farm

Seconds: The bottoms are getting soft but the neck where most of the flesh is remains firm. Should be used within a week or so. 1.2 lb

Small: 1 lb avg.