GREETINGS, LOCAL FOOD LOVERS!
Place your order from
Western Maine Market
today or by 6 am tomorrow morning for pick-up or delivery this Friday or Saturday.

New and Returning Products
Lamb
Menu Group: Food
Section: Meat

Vendor: Sillanpaa Family Farm

Ground Lamb
Lamb Chops, 1" thick, 4 per pack
Lamb Sausage
Turkey & Mixed Meats
Menu Group: Food
Section: Meat

Vendor: Nezinscot Farm Store

Burger Patties: Our house burgers are made with our own organically raised beef and pork (90% beef/10% pork sausage). Each pattie is 1/2lb in weight and there are 4 patties/package.

Grilling Meat Box: This box contains 1 (pkg of 4) pork chops, 2 packages of chicken leg and thigh (2 whole legs/pkg), 2 # pork stew, 1package country style pork ribs (approx. 2.5lbs), 2 ribeye beef steaks, 1 package house burger patties (4/pkg), 1 package of house veggie burgers (4/package), and a bag of our home made bulky rolls.

Ground Turkey: A mixture of dark and white turkey meat grown on our certified organic dairy farm.
All meats raised on our certified organic dairy. Veggie burgers are made in house (soy free, GF, vegan friendly).

$165.00 value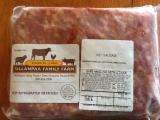 Pork Sausage
Menu Group: Food
Section: Meat

Vendor: Sillanpaa Family Farm

Breakfast, Chorizo, or Hot Sausage
Conditioner
Menu Group: Personal Care
Section: Hair Care

Vendor: Cedar Post Farm

Great way to naturally detangle and nourish hair. With Moringa Seed Oil and carrot extract added.
- Coconut Pineapple
- Oatmeal and Honey
- Tea Tree Mint
Shampoo Bars
Menu Group: Personal Care
Section: Hair Care

Vendor: Cedar Post Farm

A natural, quick and easy way to shampoo. Made with goats' milk. Nettle and Carrot extract added.
- Coconut Pineapple
- Oatmeal and Honey
- Tea Tree Mint
Hand and Body Lotions
Menu Group: Personal Care
Section: Hand and Body

Vendor: Cedar Post Farm

Made with Avocado, Rice Bran, and Apricot Kernel oils. Oat Extract and Aloe for a quick absorbing and soothing lotion. It comes in an 8 oz bottle with pump top.
- Apple Sage
- Lilac
- Strawberry Jasmine
- Unscented
Deodorant
Menu Group: Personal Care
Section: Hand and Body

Vendor: Cedar Post Farm

Natural deodorant contains Coconut Oil, Cocoa Butter, Mango Butter, Beeswax, Arrowroot Powder, Bentonite Clay, and Baking Soda. Does not contain Aluminum.
- Coconut Pineapple
- Unscented
- Woodsman
Goat Milk Soap
Menu Group: Personal Care
Section: Soap

Vendor: Cedar Post Farm

- Apple Sage
- Lilac
- Strawberry Jasmine