Greetings, Local Food Lovers!
Place your order from
Western Maine Market
today or by 6:00 A.M. tomorrow morning for pick-up or delivery this Friday or Saturday.
Last week of outdoor markets
This is the final week of Farmington's outdoor Friday and Saturday farmers' markets. Starting next week, WMM order pick-up in Farmington on Fridays will move to the Better Living Center and Saturday pick-up will move from the courthouse parking lot to the winter market in the Farmington Grange Hall, on Bridge St. in West Farmington.
New and Returning Products

Farm Fresh Eggs, mixed colors
Menu Group: Food
Section: Eggs
Vendor: Cedar Post Farm

Freshly dug, young GINGER!
Menu Group: Food
Section: Herbs
Vendor: Rustic Roots Farm
Rustic Roots Farm is excited to introduce fresh, young ginger to our customers. This ginger was grown in Farmington and is a great addition to your culinary repertoire. Young ginger is tender, fragrant, and milder in flavor than traditional mature ginger. Your ginger will store for several weeks in your refrigerator. You can also freeze larger quantities and use as needed by slicing or grating for use. We suggest using in soups, curries, stir fries, and smoothies. Many customers use fresh ginger in making tea, kombucha, pickling and fermenting, and making ginger simple syrups. Ginger is a natural anti-inflammatory and aids in digestion.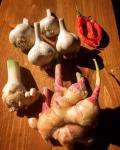 Winter Wellness Pack
Menu Group: Food
Section: Herbs
Vendor: Rustic Roots Farm
This mix of herbs with numerous wellness benefits will help see you through the winter! 5 oz of fresh ginger, 2 oz of turmeric, 4 bulbs of garlic, and 3 cayenne peppers will help you build immunity and stay healthy! These ingredients are the basis for a batch of fire cider or prepare them separately for use on their own. Ginger and turmeric make great tea and fermented beverages. Garlic is a must have for winter cooking. The hot peppers will give your soups and stews a great kick of heat!

Local, Grass Fed Beef
Menu Group: Food
Section: Meat
Vendor: Sillanpaa Family Farm
Local, Grass Fed, No Additives

Chuck Roast
Cube Steak
Ground Beef
London Broil Steak
NY Sirloin Steak
Porterhouse Steak
Sirloin Tip Roast
Soup Bones
Stew Meat
Strip Steak
T-Bone Steak
Tenderloin Steak
Top Round Steak
Small cabbage
Menu Group: Food
Section: Vegetables
Vendor: Rasmussen Farm
Small head of green or red cabbage, about 1 lb. Great for cole slaw, pickled, in soups or stir fries, or even just boiled.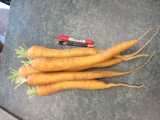 Golden yellow and white carrots!
Menu Group: Food
Section: Vegetables
Vendor: Whitehill Farm
Enormous, tender, golden yellow and white crisp carrots! Our carrots are amazing this year, really big and still tender. The size is courtesy of our raised beds and uncompacted soil! Certified Organic by MOFGA.
Phillips Heirloom type Garlic
Menu Group: Food
Section: Vegetables
Vendor: Whitehill Farm
2019 crop! Phillips Heirloom type, 6-10 cloves per bulb.
Nicely cured! Ready to store to dry or to use fresh. For serious garlic lovers! Several modest sized cloves, nice sharp flavor. Stores very well and can be used for planting this fall or fresh eating.
Soap
Menu Group: Personal Care
Section: Soap
Vendor: Cedar Post Farm
Lavender Chamomile
Rosemary and Orange