Greetings, Local Food lovers!
Place your order from
Western Maine Market
today or by 6:00 A.M. tomorrow morning for pick-up or deliver this Friday or Saturday.
Grange Market Open this Saturday
The Saturday market at the Grange hall on Bridge St. in West Farmington will be held 10 a.m. to 1 p.m. this Saturday the 14th.
Screening of the film "Food Chains" at UMF tomorrow
This Thursday, March 12th at 6pm in Lincoln Auditorium, Roberts Learning Center, the film Food Chains, will be screened.
In this exposé, an intrepid group of Florida farm workers battle to defeat the $4 trillion global supermarket industry through their ingenious Fair Food program, which partners with growers and retailers to improve working conditions for farm laborers in the United States. https://www.youtube.com/watch?v=-k4c6QdCJi4
New and Returning Products

Lovegrown "Hempettes"
Menu Group: Artisan Works
Section: Floral and Decor
Vendor: LoveGrown
Made only with 100% certified hemp flowers by Maine Department of Agriculture, Conservation and Forestry and the Maine Organic Farmer and Gardener's Association (MOFGA).
Hand-harvested, hand-trimmed and hand-rolled by expert cannabis growers and connoisseurs.
Grown in Maine, Made in Maine.
Organic hemp flower herbal cigarettes - an alternative option to smoking tobacco! Rich in cannabidiol (CBD) and naturally-occurring terpenes and aromatic plant compounds.
Award-winning varietal (2nd place, High-95 Cannabis Cup 2018)
Zero 'psychotropic' effects - this herbal cigarette will not get you "high" because it is certified by Maine DACF as having less than 0.3% THC and tested to contain high levels of cannabidiol or CBD. Fruity and complex flavor and satisfaction in an herbal smoking stick.
Paleo no bake chocolate cookies
Menu Group: Food
Section: Baked Goods
Vendor: Martin Woods Farm
Organic cacao, maple syrup from the farm, unsweetened coconut, coconut oil, sliced almonds, almond butter, and a touch of salt. Two cookies per package. Best kept cool.
Whole-Flower Hemp Tea
Menu Group: Food
Section: Coffee and Tea
Vendor: LoveGrown
Hand-blended, carefully-cured, whole-flower hemp tea! Grown in Maine, made in Maine, contains 100% certified clean cannabis by the Maine Organic Farmer and Gardener's Association (MOFGA).

Our whole-flower hemp tea contains least 40% flower, hand-harvested select hemp leaves as well as the addition of our organically-grown, crushed whole hempseed, making it extremely potent and highly-bioavailable in terms of phytocannabinoids like cannabidiol (CBD) and other healing plant compounds found in Cannabis sativa L.
To use: Steep 1 gram per cup or more for 5 minutes using a tea ball or muslin strainer. Combine with other loose teas or tea bags as desired. Enjoy!
Farm fresh colorful eggs
Menu Group: Food
Section: Eggs
Vendor: Martin Woods Farm
Mostly varied brown eggs with occasional white or blueish green one.
Soup bones
Menu Group: Food
Section: Meat
Vendor: Martin Woods Farm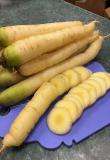 White Satin carrots!
Menu Group: Food
Section: Vegetables
Vendor: Whitehill Farm
ORGANIC Enormous, tender, White Satin crisp carrots! The sweetest of all! Our carrots are amazing this year, really big and still tender. The size is courtesy of our raised beds and uncompacted soil! Certified Organic by MOFGA.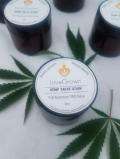 Lovegrown Hemp Massage oil, CBD Salve, and Body balm
Menu Group: Personal Care
Section: Medicinal and Herbal
Vendor: LoveGrown
Hemp-Infused Massage Oil: Potently-blended hemp flower-infused topical oil, made using certified organic plant-based oils and extracts. Soothing to the skin, our oil blend infused with 300mg of our hemp flower extract packs a potent punch of phytocannabinoids and terpenes, including naturally-occurring cannabidiol, or CBD. Perfect for applying yourself to larger areas of the body, for a just-out-of-the-shower all-over treatment, or as a massage oil for your professional therapy/practice or for your partner or family member to use. 100% pure essential oils provide the plant fragrances of sandalwood and tangerine, among others, which are invigorating to the senses. The perfect topical for sports and physical activity. Apply to feet and calves before putting on socks and shoes in the morning or before going to bed at night - your aching back will thank you!

Lovegrown Hemp "Salve-ation" Full Spectrum CBD Salve (pictured): This smooth and silky salve is potently-formulated - and that's why it works better than other salves on the market today. We utilize our own house-made, ethanol-extracted, full-spectrum hemp resin as the active ingredient. This golden flower resin is made from the MOFGA-certified flowers we grow ourselves, right here on our organic farms in Maine, USA.
Our Salve-ation is very rich in cannabidiol (CBD), which has scientifically-proven benefits when applied topically including anti-inflammation, pain relief, skin healing and much more - see our testimonials to learn about how our customers utilize Salve-ation!* The aroma is gentle and intoxicating - a very light blend of pure essential oils with a honey-like fragrance from the addition of local organic beeswax. It's a joy to use and a relief for those who suffer from pain and inflammation, especially for arthritis sufferers!

"The Bees Knees" Body Balm: This portable body balm stick is potently-infused with triple-strength hemp flower extract - that's why it's truly the "Bees Knees!"
Made with only five USDA certified organic ingredients - cold-pressed virgin coconut oil, local organic raw beeswax, organic shea butter, extract of 100% MOFGA-certified hemp flowers and pure organic orange oil. Perfect on-the-go spot treatment.
It's a "portable pain patch stick!" The most potent true full-spectrum topical on the market, triple the CBD content and as always, only full-spectrum herbal extracts are used....no CBD isolate powder here! Only organic, Maine-grown cannabis flowers can deliver these awesome results.
Botanical Hemp Oil & Pet Tincture
Menu Group: Personal Care
Section: Medicinal and Herbal
Vendor: LoveGrown
Botanical Hemp Oil: LoveGrown Botanical Hemp Oil (1200mg full-spectrum organic hemp flower extract per 30ml) Full-spectrum, CBD-rich, 100% MOFGA/USDA-certified organic ingredients!
* Maine-grown, Maine-made supplement
* Contains 100% certified clean hemp flowers, by the Maine Organic
Farmer and Gardener's Association (MOFGA)
* Full-spectrum, CBD-rich, pure, organic grain ethanol-extracted
flower resin oil
* 100% MOFGA-certified hemp flower is the active ingredient
* Made with just two USDA-certified organic and gluten-free plant
lipid carriers plus our active hemp flower extract ingredient
We use science-based formulation techniques to enhance the bioavailability of our potent, CBD-rich botanical hemp oil. We've worked with medical cannabis clients since 2012 using high-CBD, CBG and CBC varietals to craft our organic products. This oil is the result of years worth of input and dosing advice from world-renowned cannabis scientists and doctors - and is infused with knowledge, intention, care and love from crop to drop!
Our Botanical Hemp Oil is uniquely-potent, truly full-spectrum, highly-bioavailable, phytocannabinoid-rich, and crafted by experienced, knowledgeable herbalists with education and training in science and medicine.

"New Tricks" Pet Tincture: 75mg (15ml) full-spectrum hemp flower tincture, specially formulated for small animals (mammals under 50lbs).
We utilize organic safflower oil as the carrier for this tincture, which is a proven safe ingredient for smaller dogs and pets.
Dosing instructions: Start with 1-3 drops on a treat or mixed into food. Increase as needed, up to one dropper per dose. Wait at least two hours between doses.