Greetings, Local Food lovers!
Place your order from
Western Maine Market
today or by 6:00 A.M. tomorrow morning for pick-up or deliver this Friday.
COVID-19 Update
The Grange market is now closed for the season.

Western Maine Market continues to operate - bringing local food to folks in Franklin County with some added precautions.

For Farmington pick-up: We will be meeting vendors and customers OUTSIDE the Better Living Center. Please stay in your car while we place your order in the back. We are aiming to avoid all face-to-face contact for the time being.

We will be delivering orders as usual. Please leave your payment by the door or pay in advance. We will ring the bell or knock, drop off your order, and walk away without face-to-face contact. Please wait for us to step away before coming out to get your order.
New and Returning Products

Gift Certificates available
Menu Group: Extra
Section: Gift Certificates
Vendor: Western Maine Market
Looking to help someone in need? How about a gift certificate to bring them local food?
State in the Order Note at checkout the name and email address of the recipient. For quantity, fill in the total number of dollars you wish to give--any amount you choose.
The gift certificate will be valid immediately. The recipient can simply use the "Keep your money local" option at checkout to place an order.
Contact Deborah at
[email protected]
or 857-225-1199 with any questions.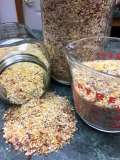 Certified Organic corn meal!
Menu Group: Food
Section: Grain Products
Vendor: Whitehill Farm
Freshly ground cornmeal ...Italian Florianni corn - which is a beautiful orange with a creamy yellow interior or Oaxacan Green - yellow/white with flecks of green. REALLY tasty! Corn bread recipes included!
Beef Stew meat
Menu Group: Food
Section: Meat
Vendor: Martin Woods Farm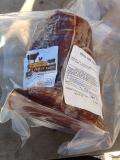 Ham
Menu Group: Food
Section: Meat
Vendor: Martin Woods Farm
Fresh Ham

Vendor: Sillanpaa Family Farm
(pictured) Smoked Ham Hocks, Nitrite Free, great for soups and baked beans!
Maple syrup
Menu Group: Food
Section: Sweet Stuff
Vendor: Martin Woods Farm
2020 syrup, clean and dark
Kettle Corn
Menu Group: Food
Section: Sweet Stuff
Vendor: The Sweet Life Kettle Corn Company
Medium size bag of Kettle Corn. Only four ingredients, corn, corn oil, sugar, and salt! Perfect to split with two people.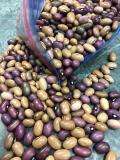 Dry beans
Menu Group: Food
Section: Vegetables
Vendor: Whitehill Farm
(pictured) Ugandan Bantu dry bean! Lovely multi-colored, small dry bean! "The natural mix of color and shapes is thought to represent the rich Bantu landscape and the farmers' belief that diversity increases resilience to the environmental changes challenging their fields."
Delightful visually, but hearty and tasty cooked. We use them for soups and salads.

Small Red Beans, the traditional for Red Beans and Rice! Small, oval, brilliant red, and tasty like a mild kidney bean. This is the traditional Caribbean bean traditionally used in Red Beans and Rice. WE use it for soup, salads, and chili!
Pea Shoot Microgreens
Menu Group: Food
Section: Vegetables
Vendor: Rustic Roots Farm
A taste of spring is available now! Sweet and tender pea shoots make a great addition to salads and sandwiches. Sometimes we just eat them by the handful!

Beautiful BIG bakers!
Menu Group: Food
Section: Vegetables
Vendor: Whitehill Farm
Certified Organic. These are beautiful, classic, Kennebec potatoes. Just waiting to grace your table.
Hand Sanitizer
Menu Group: Personal Care
Section: Hand and Body
Vendor: LoveGrown
WHO-approved formulation (World Health Organization), Balsam Fir Needle Scented Liquid Hand Sanitizer
Contains: USDA organic ethanol (Maine-sourced), glycerine, distilled filtered water, hydrogen peroxide, balsam fir needle oil.
Keep away from children.
For external use only.
Shake well.
Avoid contact with eyes.
Directions for use: squeeze out less than a palmful and rub across all surfaces of hands.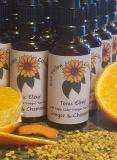 Lovegrown Oxymel Tonic Elixer
Menu Group: Personal Care
Section: Medicinal and Herbal
Vendor: LoveGrown
Made with bee pollen, citrus peel, raw honey, apple cider vinegar, ginger, and chamomile. Formulated for immunity and heart support.
Dosing instructions: up to 3 droppers full per diem, by mouth. This tonic elixir can be taken directly or mixed into a beverage. Delicious when diluted with water. Bright, sharp, flavor. Sweet and sour.
Seedling Pre-orders
Menu Group: Plants and Seeds
:
Vendor: Whitehill Farm
This is the last week for actual pre-orders …we're planting, and it will be a matter of what is actually available from now on. There will a lot to choose from, we are planting and transplanting and we will take all orders.

Seedlings will be available later, without pre-ordering; but pre-ordering is the best way to guarantee that the seedlings you want will be available at planting time.