Happy Earth Day, Local Food lovers!
Today is the 50th anniversary of Earth Day! Learn more here:
www.earthday.org/earth-day-2020/
Place your order from
Western Maine Market
today or by 6:00 A.M. tomorrow morning for pick-up or delivery this Friday.
COVID-19 Precautions
For Farmington pick-up: We will be meeting vendors and customers OUTSIDE the Better Living Center. Please stay in your car while we place your order in the back. We are aiming to avoid all face-to-face contact for the time being.

For Kingfield pick-up: We will sanitize the cooler at 266 Main St and will leave hand-sanitizer there for your use. We are attempting to deliver Kingfield orders where possible to limit the number of people picking up at this self-service location.

For Deliveries: Please leave your payment by the door or pay in advance. We will ring the bell or knock, drop off your order, and walk away without face-to-face contact. Please wait for us to step away before coming out to get your order.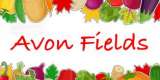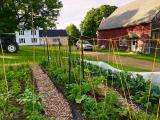 New Vendor
Avon Fields
Avon Fields is a small market garden owned by Meg McInnis and Robert Kowolik in the western mountains of Maine. Meg and Robert have been designing a self sufficient lifestyle for over 20 years while wrapping up their life in corporate America (and beyond). Their first farm was in the western mountains of North Carolina where they lived minimally, raising their own vegetables, medicinal and culinary herbs, and naturally raised meat. Meg grew up in Maine, and in 2017, Meg and Robert decided to move their farm from Western North Carolina to Western Maine. "We loved the life we had in NC but missed family. We had one more (major) move left in us, so we came home."
email:
[email protected]
avonfields.com
Our Approach
There are so many "methods" to raising food these days. Avon Fields is well educated in various methods but chooses to remain flexible in their approach. The main guiding principle we use at Avon Fields is to 1) build the soil, it will take care of the food production, 2) minimal input builds strong resistance, and 3) when, on the rare occasion, pest or disease deterrents are needed, exhaust all natural options first.
Farm Tips
#1 Preserve eggs for future use. ….freeze them!

Using a muffin pan, crack one egg per space. I add a pinch of salt for using in savory recipes or a pinch of sugar if using in baking. Once frozen, pop egg out into well marked freezer bag and store for future use. Cooking, baking, scrambling…. You should never be left short of your farm fresh eggs.
New and Returning Products

Soft Molasses Cookies
Menu Group: Food
Section: Baked Goods
Vendor: One Way Out Farm
Cloud biscuits
Menu Group: Food
Section: Baked Goods
Vendor: Rasmussen Farm
made with unbleached white flour, organic whole milk, vegetable shortening, local eggs, baking powder, sugar, and sea salt
Farm Fresh Eggs - Organic
Menu Group: Food
Section: Eggs
Vendor: Avon Fields
Simply the sunniest yellow yolks in these farm fresh eggs, 1 dozen, from pastured raised hearty hens, fed organic, non-GMO feed.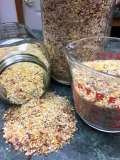 Certified Organic corn meal!
Menu Group: Food
Section: Grain Products
Vendor: Whitehill Farm
Freshly ground cornmeal ...Italian Florianni corn - which is a beautiful orange with a creamy yellow interior or Oaxacan Green - yellow/white with flecks of green. REALLY tasty! Corn bread recipes included!
Baby back ribs!
Menu Group: Food
Section: Meat
Vendor: Martin Woods Farm
Raw Cranberry Relish with apples and clementines
Menu Group: Food
Section: Prepared Foods
Vendor: Rasmussen Farm
A delicious, raw cranberry relish chock full of vitamin C! Made with organic Maine cranberries, local apples, clementines, and sugar. We like to eat it by itself or added to our Wild Woman salad mix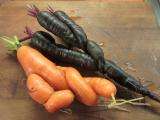 WHACKY Carrots! Organic
Menu Group: Food
Section: Vegetables
Vendor: Whitehill Farm
ORGANIC Crisp and crunchy golden orange carrots!
Beautiful crisp orange carrots. But these are the WHACKY ones, with multiple legs or twisted embraces ...just like in a Misfits Box!
Package will have at least 2 ½ pounds. Certified Organic.
Wild Woman salad mix
Menu Group: Food
Section: Vegetables
Vendor: Rasmussen Farm
Delight your taste buds with this flavor-packed mix of greens & the occasional edible flower. This is not a mild and delicate spring mix - mostly serious greens with some bite to them. No need for dressing, other ingredients, or a bowl! Great as a snack straight from the bag. A cornucopia of textures & tastes: peppery, succulent, mild, intense, some that taste like broccoli, peas, onions, garlic, or sour apple. Ingredients vary, and the mix is different every week.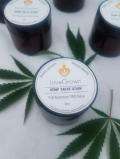 "Salve-ation" Hemp Flower Salve
100% organic / MOFGA-certified
Menu Group: Personal Care
Section: Medicinal and Herbal
Vendor: LoveGrown
This smooth and silky salve is potently-formulated for maximum effects. We utilize our own house-made, ethanol-extracted, full-spectrum hemp resin as the active ingredient. This golden flower resin is made from the MOFGA-certified flowers we grow ourselves, right here on our organic farms in Maine, USA.
Our "Salve-ation" formulation is very rich in cannabidiol (CBD), which has scientifically-proven benefits when applied topically including anti-inflammation, pain relief, skin healing and much more - see our testimonials to learn about how our customers utilize Salve-ation!* The aroma is gentle and intoxicating - a very light blend of pure essential oils with a honey-like fragrance from the addition of local organic beeswax. It's a joy to use and a relief for those who suffer from pain and inflammation, especially for arthritis sufferers!*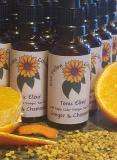 Bee Pollen & Citrus Peel Tonic Elixir
Menu Group: Personal Care
Section: Medicinal and Herbal
Vendor: LoveGrown
Made with bee pollen, citrus peel, raw honey, apple cider vinegar, ginger, and chamomile. Formulated for immunity and heart support.
Dosing instructions: up to 3 droppers full per diem, by mouth. This tonic elixir can be taken directly or mixed into a beverage. Delicious when diluted with water. Bright, sharp, flavor. Sweet and sour.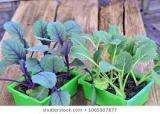 Seedlings - Last week of pre-orders
Menu Group: Plants and Seeds
Section: Vegetable Starts
Vendor: Whitehill Farm
PLEASE NOTE that seedlings from Whitehill Farm are all pre-orders - they will not be delivered until Memorial Day weekend.

Starting next week, only plants and seedlings that are ready to deliver will be listed in our inventory

Peppers - Hot
Maya Habanero, uniques, easier to grow, and H O T !!!!! This text is all true! "Not your typical habanero look but you'll definitely taste the heat! Fruits are very attractive and have the same fruity/hot combination, but with slightly lower Scoville ratings than their red habanero cousins. Plants are tall, 36" uniform, high yielding and provide good cover for fruits. Performs well in cooler climates."

Peppers, Sweet:
Corbaci, Turkish heirloom sweet pepper. Slender, up to 12" long! Uniquely slender, sweet, 10 to 12 inch fruits change from light green to yellow and finally to bright red. A perfect choice for fresh eating, pickling or frying, this rare heirloom is from Turkey and has a very rich, sweet flavor. A serious favorite at Whitehill Farm!
Corona: (68) OP Another early golden bell, a Dutch variety introduced in 1991. Blocky 3 or 4-lobed have thick sweet flesh. Considered to be "fancy". A perfect choice for salads or crudites.
Orange Bell, a new to us blocky gold sweet pepper.Super sweet, brilliant orange fruit is blocky and good-sized with thick flesh that is flavorful and among the best tasting of all peppers. Plants produce large yields of this most magnificent pepper. Very sweet and crunchy
Orange Sun Bell Pepper (orange) 75-80 days. This is a new one for us. It promises to be a good mid-season pepper. Bright orange, blocky 4" to 5" long, matures from green to orange. Tall sturdy plants
Red Ruffle! Actually a pimiento ...thick and juicy "run down your chin" and sweet! "Love these, and the seed is from Turkey! Red ruffled pepper with sweet thick flesh. Very early and also productive late into the season. Deeply lobed, flattened sheepnose/cheese type pimento. Fruit develop fewer blemishes during ripening compared to bell-shaped peppers."