Greetings, Local Food Lovers!
Place your order from
Western Maine Market
today or by 6:00 A.M. tomorrow morning for pick-up or delivery this Friday.
.
New and Returning Products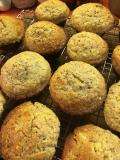 Double Delicious Corn Muffins!
Menu Group: Food
Section: Baked Goods
Vendor: Whitehill Farm
Sweet, moist, chewy. Delicious, but simple! Made with Cream Corn - made from scratch with local sweet corn and cream - and our own Certified Organic Corn Meal. Great for any meal.
Tabouli
Menu Group: Food
Section: Prepared Foods
Vendor: Rasmussen Farm
Made with our tomatoes and parsley; water, bulgur wheat; olive oil, organic lemon juice; our onions, scallions, and/or chives; local garlic; black pepper, and sea salt. Keep refrigerated.
Raw cranberry relish with apples and clementines
Menu Group: Food
Section: Prepared Foods
Vendor: Rasmussen Farm
A delicious, raw cranberry relish chock full of vitamin C! Made with organic Maine cranberries, local apples, clementines, and sugar.
Beets
Menu Group: Food
Section: Vegetables
Vendor: Martin Woods Farm

Beets, med or large (please specify preference)


Vendor: Porter Hill Farm
No spray, naturally grown.

A mix of Medium Beets: You will get dark red and golden yellow beets. You may get one or two pink beets. The pink are pink Chioggia with concentric pink and white stripes on the interior- very pretty and nice when shredded uncooked for a salad.

Extra large beets: You may get dark red , yellow, and pink beets.
Cauliflower
Menu Group: Food
Section: Vegetables
Vendor: Rasmussen Farm
Smallish head - pesticide-free but not pest-free
Tatsoi
Menu Group: Food
Section: Vegetables
Vendor: Rasmussen Farm
Use it like spinach - raw or cooked. Find recipes here:
www.yummly.com/recipes/tatsoi.
Specialty Produce.com says: "Tatsoi is a very versatile green and may used similarly to spinach, raw, steamed, sauteed, braised or stir fried. It makes an excellent accompaniment to other salad greens such as spinach, arugula, watercress, pea tendrils and mizuna. Its tangy and peppery notes pair well with citrus, crisp cool ingredients such as apple, fennel and mint, warm flavors that are abundantly found in chiles, garlic and allspice. Pair tatsoi with ingredients rich in umami such as scallops, mushrooms, seaweed, sesame and braised meats. Fermented ingredients such as fish sauce, soy sauce and vinegars are also complimentary matches." http://www.specialtyproduce.com/produce/Tatsoi_532.php
Wild Woman salad mix
Menu Group: Food
Section: Vegetables
Vendor: Rasmussen Farm
Delight your taste buds with this flavor-packed mix of greens & the occasional edible flower. No need for dressing, other ingredients, or a bowl! Great as a snack straight from the bag. A cornucopia of textures & tastes: peppery, succulent, mild, intense, some that taste like broccoli, peas, onions, garlic, or sour apple. Ingredients vary, and the mix is different every week.
Curly Kale
Menu Group: Food
Section: Vegetables
Vendor: Porter Hill Farm
Naturally grown in our greenhouse.
Leeks! Assorted small and medium
Menu Group: Food
Section: Vegetables
Vendor: Whitehill Farm
Certified Organic, just right for soups!Sweet and versatile for soups, frittatas, stews, and more.
Green Peppers - sweet
Menu Group: Food
Section: Vegetables
Vendor: Porter Hill Farm
Tomatoes
Menu Group: Food
Section: Vegetables
Vendor: Rasmussen Farm
All pink & red tomato mix

All yellow: A mix of tomatoes ranging from pale yellow through golden and orange.

Larger quantities available on request.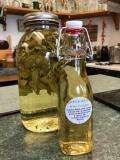 Green Basil Infused White Wine Vinegar
Menu Group: Food
Section: Vinegars and Oils
Vendor: Whitehill Farm
Lovely mild basil aroma and flavor, perfect for salad dressings. Subtle green color. Imported Colavita White Wine vinegar, Red Basil Certified Organic by MOFGA. elegant flip top closure.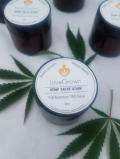 Hemp products - organic/MOFGA-certified
Menu Group: Personal Care
Section: Medicinal and Herbal
Vendor: LoveGrown
"Salve-ation" Hemp Flower Salve - 100% organic/MOFGA-certified (pictured): This smooth and silky salve is potently-formulated for maximum effects. We utilize our own house-made, ethanol-extracted, full-spectrum hemp resin as the active ingredient. This golden flower resin is made from the MOFGA-certified flowers we grow ourselves, right here on our organic farms in Maine, USA.
Our "Salve-ation" formulation is very rich in cannabidiol (CBD), which has scientifically-proven benefits when applied topically including anti-inflammation, pain relief, skin healing and much more - see our testimonials to learn about how our customers utilize Salve-ation!* The aroma is gentle and intoxicating - a very light blend of pure essential oils with a honey-like fragrance from the addition of local organic beeswax. It's a joy to use and a relief for those who suffer from pain and inflammation, especially for arthritis sufferers!*

Botanical Hemp Oil: LoveGrown Botanical Hemp Oil
1200mg full-spectrum organic hemp flower extract per 30ml
(1 dram trial size=3.7ml)
Full-spectrum, CBD-rich, 100% MOFGA/USDA-certified organic ingredients.
* Maine-grown, Maine-made dietary supplement
* Contains 100% certified clean hemp flowers, by the Maine Organic Farmer and Gardener's Association (MOFGA)
* Full-spectrum, CBD-rich, pure, organic grain ethanol-extracted
flower resin oil
* Hemp flower extract, rich in CBD, is the active ingredient
* Made with just two USDA-certified organic and gluten-free plant
lipid carriers plus our active hemp flower extract ingredient
We use science-based formulation techniques to enhance the bioavailability of our potent, CBD-rich Botanical Hemp Oil.
Our work with medical cannabis clients has informed our practice since 2012, when we began using high-CBD, CBG and CBC varietals to craft our organic products. Our Botanical Hemp Oil is the result of years worth of input and dosing advice from world-renowned cannabis scientists and doctors. It's a product that is infused with knowledge, intention, care and love - from "crop to drop!"

Our Botanical Hemp Oil is uniquely-potent, full-spectrum, highly-bioavailable, and rich in phytocannabinoids including CBD.

Lovegrown "Hempettes"" Made with 100% MOFGA-certified hemp flowers. Approved for sale to the general public by Maine Department of Agriculture, Conservation and Forestry.
Hand-harvested, hand-trimmed and hand-rolled by expert cannabis growers and connoisseurs.
Grown in Maine, Made in Maine.
Organic hemp flower herbal cigarettes - an alternative option to smoking tobacco! Rich in cannabidiol (CBD) and naturally-occurring terpenes and aromatic plant compounds.
Award-winning varietal (2nd place, High-95 Cannabis Cup 2018)
Zero 'psychotropic' effects - this herbal cigarette will not get you "high" yet the flavor and effects are quite pleasant. Certified by Maine DACF as having less than 0.3% THC. Third-party tested, containing high levels of cannabidiol or CBD. Fruity and complex flavor and satisfaction in an herbal smoking stick.