Greetings, local food lovers!
.
Order today from
Western Maine Market
for pick-up or delivery this Friday.
.
New and Returning Products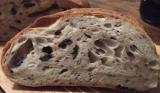 Kalamata Olive & Rosemary Bread DOUGH
Menu Group: Food
Section: Baked Goods
Vendor: Rasmussen Farm
Enjoy freshly baked bread at home when you want it!
Dough will keep in the fridge for 2 weeks or more. For best results, allow several hours for rising and forming loaf before baking.

Made with unbleached white flour, water, Kalamata olives, homegrown rosemary, active dry yeast, and sea salt.
Banana muffins
Menu Group: Food
Section: Baked Goods
Vendor: Martin Woods Farm
plain and simple, moist and delicious
Quick bread
Menu Group: Food
Section: Baked Goods
Vendor: Martin Woods Farm
.
Carrot Cake with nuts & raisins (vegan)

Pumpkin bread with wild blueberries
Duck eggs
Menu Group: Food
Section: Eggs
Vendor: Martin Woods Farm
Stew Beef
Menu Group: Food
Section: Meat
Vendor: Cedar Post Farm
Ground Lamb
Menu Group: Food
Section: Meat
Vendor: Cedar Post Farm
Pork
Menu Group: Food
Section: Meat
Vendor: Cedar Post Farm
.
Country Ribs

Ground Pork

Italian Hot Sausage