Greetings, Local Food lovers!
Place your order from
Western Maine Market
today or by 6:00 A.M. tomorrow morning for pick-up or deliver this Friday or Saturday.

"TELL A FRIEND" DISCOUNT

Tell a friend / neighbor / co-worker / etc. about Western Maine Market, and both of you will get a 10% discount off your order total. To get the discount, use the "Keep Your Money Local" payment option and pay with cash, check, or gift certificate on delivery. This offer is not valid for orders paid with PayPal. Please use the order note at checkout to let us know the name of your partner-in-discount.
New and Returning Products

Prepared Foods
Menu Group: Food - Section:
Prepared Foods

Vendor: King & I Angus

Beef Chili with Bacon and Black Beans: This is a simple chili enjoyed by all. Made with King & I Angus 100% Black Angus ground beef, tomatoes, bacon, black beans, and spiced but not spicy. One lb of this thick but smooth chili is one hearty serving or two small.

Meatballs with Tomato Sauce: Four meatballs in basic tomato sauce. This recipe is a Boston North End original, passed on to Sara many years ago. A blend of our own 100% Black Angus Beef, ground pork, Romano cheese and a touch of sweet basil. The sauce is a basic tomato sauce lightly seasoned, enough for approximately half pound of pasta.

Shepherds Pie: Nothing more comforting then Shepherd's Pie. Made with our ground beef, carrots, corn, peas, and topped with mashed potatoes makes a complete meal. Serves two average appetites or one hearty.

Sloppy Joe: A great treat for any night, Sloppy Joes. Slightly sweet, with a little bit of spice, and piled on a burger roll, simply yummy.

Come in a microwaveable container.
Bread
Menu Group: Food
Section: Baked Goods

Vendor: King & I Angus

Focaccia: Fresh spinach,feta cheese,Kalamata olives and caramelized onions,covering a nine inch round focaccia bread. Great before dinner, with dinner or anytime of the day. This can be enjoyed cold or put in the oven at 325 for a few minutes to make it warm and just a bit crispy, yum....

Sara's Cinnfully Sumptuous Cinnamon: This cinnamon bread is absolutely cinnfull, filled with a mix of cinnamon sugar, brown sugar and warm melted butter for a sumptuous experience. Warm it with a dollop of ice cream on top or a very special French toast.
Cookies
Menu Group: Food
Section: Baked Goods

Vendor: King & I Angus

Key Lime: A delightful lime cookie that is perfect for light summer treat. Slightly crisp and delicate!

Ruby's Raspberry Filled: A favorite for Dennis, just like grandma used to make these soft comforting cookie are filled with memories and lots of raspberry preserves.
English Muffins
Menu Group: Food
Section: Baked Goods

Vendor: King & I Angus

English muffins made grilled to perfection with nooks and crannies. Simply delicious!

Available plain, whole wheat, blueberry, or cinnamon
Scones
Menu Group: Food
Section: Baked Goods

Vendor: King & I Angus

Cranberry Walnut: Loaded with cranberries and walnuts these scones are light and crumbly. A summer market favorite.

Maple Walnut: If you like the flavor of maple walnut you will love theses scones.

Not a cake scone, a scone with tender moist crumble and a fantastic burst of flavor.
Whoopie Pie
Menu Group: Food
Section: Baked Goods

Vendor: King & I Angus

Wilkies Whoopies are a Maine tradition; however, as a young girl from MA a tradition we also delighted in when Mom would bake up a batch. Made with butter and the very best cocoa we fill our pies with a butter/marshmallow cream. A wonderful treat anytime.
Cranberry Nut Granola
Menu Group: Food
Section: Baked Goods

Vendor: King & I Angus

Loaded with oats, cranberries, walnuts, almonds, sunflower seeds, coconut and wheat germ, mixed with a honey syrup and baked to a perfect crunch. Great anytime!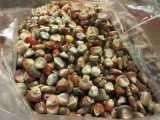 Freshly ground Certified Organic corn meal!
Menu Group: Food
Section: Grain Products

Vendor: Whitehill Farm

Our 2016 crop of dent corns, Hopi Blue, Oaxacan Green, Strubbe's Orange and Florianni. REALLY tasty! (The photo shows the corn kernels before they were ground)