Happy Solstice, Local Food lovers!
Despite appearances to the contrary, Spring is officially just five days away!
Place your order from
Western Maine Market
today or by 6:00 A.M. tomorrow morning for pick-up or deliver this Friday or Saturday.
We're back!
The website was offline this morning, but we're back up and running now. If you have any trouble placing an order online, feel free to order by email to
info@westernmainemarket.com
.

New and Returning Products
From Pale Moon Farm
Menu Group: Food
Section: Meat

Breakfast Pack: Breakfast Pack contains 1lb bacon and 2 /1lb small link breakfast Sausages

Chorizo Spring Special: 4/ 1lb packages of Chorizo large link Sausages- 3-4 links per pack

Garlic and Chorizo Special: 2 packages each Chorizo and Garlic packages- has 3-4 large links per pack.

Grand Slam Breakfast Pack: 1lb bacon, 2/ 1lb small link breakfast sausages and ham steak between: .75-1.5lb each

Hot Italian Special: 3 hot italian small link sausages 6-8 links per pack

Kielbasa Special: 3/.75- 1lb packages of Kielbasa Sausages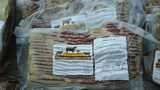 From Sillanpaa Family Farm
Menu Group: Food
Section: Meat

Breakfast Sausage, 1 lb package

Smoked Bacon, thick sliced (pictured
Cut Flower CSA
Menu Group: Home and Garden
Section: Cut Flowers

Vendor: Rasmussen Farm

A jar of seasonal flowers to grace your table each week of the growing season, starting sometime in May and extending until frost. At least 18 weeks and probably 20 or more. Two sizes available. Jar returns appreciated.