Greetings, Local Food lovers!
Place your order from
Western Maine Market
today or by 6 am tomorrow morning for pick-up or deliver this Friday or Saturday.
New and Returning Products

Everything Bagels
Menu Group: Food
Section: Baked Goods

Vendor: Beehive Bakery

Everything Bagels- our number one best selling bagel baked in the Montreal style. ( as opposed to the New York City Bagel). As it says- it's everything on it. Garlic, sesame and poppy seeds, minced onion, kosher salt on the outside. Made with sourdough starter, yeast, honey, salt, flour, spring water. NO DAIRY OR EGGS

Green, Growing Things!
Menu Group: Plants and Seeds
Section: Herb Plants

Vendor: Rasmussen Farm

Aloe vera plant: ~ 3-4", An excellent plant to have on hand to soothe the pain of burns. The gel can also be useful to help root formation in propagating other plants.

Cardamom plant (pictured) 12"+, heavenly scent! Brush your fingers through the leaves of this plant and breathe in a heavenly scent that can't help but cheer your heart. It may not ever grow big enough in Maine to flower and form pods, but you can use the leaves as you would bay leaves, putting them into a dish to impart flavor then removing the leaf itself.
It is a tropical rain forest plant that likes shade and moisture. It could probably be planted out for the summer and brought in for winter, but we treat ours as houseplants.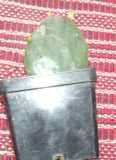 Prickly Pear
Menu Group: Plants and Seeds
Section: House Plants

Vendor: Rasmussen Farm

This is an edible cactus. It will flower, then form additional pads off the original one. The young pads are known as nopales, and can be eaten raw or cooked after the spines are removed. It can shrivel a bit in winter, but will firm up and form new growth in spring, as you can see is starting to happen with the one pictured here.