Happy Earth Day, Local Food Lovers!
This coming Sunday the 22nd is Earth Day! This year's Earth Day is focusing on ending plastic pollution. Learn more at
www.earthday.org.
Place your order from
Western Maine Market
today or by 6 am tomorrow morning for pick-up or deliver this Friday or Saturday.

New and Returning Products
Cinnamon rolls
Menu Group: Food
Section: Baked Goods

Vendor: Rasmussen Farm

Nut-free. We prefer our cinnamon rolls un-glazed: sweet, but not too sweet or sticky. We are also offering them glazed for those who prefer a more decadent treat.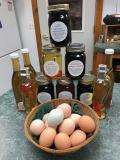 Eggs - Spring Sale!
Menu Group: Food
Section: Eggs

Vendor: Whitehill Farm

Plenty of fresh and tasty, beautiful brown eggs.
Our hens are enjoying goodies: veggie scraps - coming from the House and Garden Kitchens AND fresh goodies out and about as the grass just begins to green! Fresh eggs are are a perfect portion of protein!