Greetings, Local Food lovers!
Place your order from
Western Maine Market
today or by 6 am tomorrow morning for pick-up or deliver this Friday or Saturday.

New and Returning Products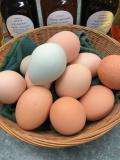 Eggs
Menu Group: Food
Section: Eggs

Vendor: Whitehill Farm

Can we hope that spring is around the corner? That means eggs! All different sizes, all delicious!
Our hens are enjoying goodies: veggie scraps - coming from the House and Garden Kitchens AND the fresh greens that we grow for them all winter! Fresh eggs are are a perfect portion of protein!
Mix of salad greens
Menu Group: Food
Section: Vegetables

Vendor: Porter Hill Farm

Mix of different loose leaf lettuces, spinach,and arugula.
Planted last fall and overwintered in the green house. With the longer days and warmth they have started growing and are a delight after a long cold winter!