Happy Independence Day, Local Food Lovers!
Place your order from
Western Maine Market
today or by 6:00 A.M. tomorrow morning for pick-up or delivery this Friday or Saturday.
We will be operating as usual this holiday week.
Nezinscot Farm Tragedy
Our Condolences to the Varney family of Nezinscot Farm. Gloria and Gregg's son Roy was killed in a tragic accident on the farm this week.

We have not yet been able to confirm whether or not their products will be available through WMM this week. You may go ahead and place an order, and we will let you know if they can't deliver.
New and Returning Products

Lush Strawberries - naturally grown - No Spray
Menu Group: Food
Section: Fruits and Berries
Vendor: Porter Hill Farm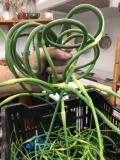 Glorious Garlic Scapes!
Menu Group: Food
Section: Vegetables
Vendor: Whitehill Farm
Tender garlic scapes are perfect for stirfry, soups, and stews. We put some in the food processor with olive oil to make a great puree, for recipe starting or garlic bread! Mild garlic flavor.