Greetings, Local Food Lovers!
Place your order from
Western Maine Market
today or by 6:00 A.M. tomorrow morning for pick-up or delivery this Friday or Saturday.
Thanksgiving Schedule
This week we are operating on our usual schedule. Next week both Western Maine Market and Farmington's winter market at the Grange will have a special Thanksgiving schedule. The Grange market will be held Wednesday the 27th prior to Thanksgiving rather than Saturday the 30th. Market hours will be10 a.m. to 1 p.m. as usual.

Western Maine Market's newsletter will go out and we will be accepting orders next Monday the 25th. The ordering deadline will be 6:00 a.m. Tuesday morning the 26th. Deliveries will be made on Wednesday the 27th, with a choice of Farmington order pick-up at the Grange market 11 a.m. to 1 p.m. or at the Better Living Center 2-3 p.m.
New and Returning Products

Beautiful Golden PEACH Jam!
Menu Group: Food
Section: Preserved Foods
Vendor: Whitehill Farm
Golden peaches transformed into a delicious jam. Locally grown peaches lovingly canned here at Whitehill Farm!
Salad Sprinkles
Menu Group: Food
Section: Salt and Spices
Vendor: Whitehill Farm
Salt free. Sesame seeds, leeks, and herbs. Tasty salad seasoning that's also great for garnishing soups or flavoring dips.
Frozen Fiddleheads
Menu Group: Food
Section: Vegetables
Vendor: Rasmussen Farm
Fiddleheads picked and cleaned at Island Farm, blanched and frozen at Rasmussen Farm.
Leeks!
Menu Group: Food
Section: Vegetables
Vendor: Whitehill Farm
Assorted large and medium, Certified Organic, just right for soups! Picked JUST before the snow! Sweet and versatile for soups, frittatas, stews, and more.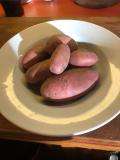 Potatoes
Menu Group: Food
Section: Vegetables
Vendor: Whitehill Farm
At least 1 lb. Certified Organic.

Banana Fingerlings ...
BIG ones! Gorgeous BIG Banana Fingerlings! Great for soups, potato salad, frittatas ...get creative!
Medium sized, specialty spuds! Great for sautéing and potato salad.

Dark Red Norlands, multi-use potatoes. NICE round Dark Reds, perfect for potato salad, baking, etc. Mostly uniform sizes in each bag. Certified Organic by MOFGA.

French Fingerlings, beautiful red fingerlings Nice red, medium sized fingerlings. Versatile, but WE use them for potato salad!

Lovely Red Thumb Fingerlings (pictured). Lovely medium sized red fingerlings ...think frittatas, salads, omelets, or just plain boiled spuds with lots of butter!
Frozen Butternut squash
Menu Group: Food
Section: Vegetables
Vendor: Rasmussen Farm
Peeled, chopped, uncooked squash, grown by Rustic Roots Farm., and processed by Rasmussen Farm in our commercial kitchen. Vacuum sealed and frozen.