Greetings, Local Food Lovers!
Place your order from
Western Maine Market
today or by 6:00 A.M. tomorrow morning for pick-up or delivery this Friday or Saturday.
New and Returning Products

Apricot Ginger Scones
Menu Group: Food
Section: Baked Goods
Vendor: King & I Angus
If you love apricot with the kick of ginger these are the scones for you. Not a cake scone a scone with tender moist crumble and a fantastic burst of flavor.
Pullet eggs!
Menu Group: Food
Section: Eggs
Vendor: Whitehill Farm
Perfect little "practice" eggs from our new Silver Laced Wyandotte layers. Pullet eggs are minis ...three equal 2 large eggs for recipe planning. Golden yolks just like eggs from our older birds ...and the new girls will be laying larger eggs soon!
Sloppy Joe
Menu Group: Food
Section: Prepared Foods
Vendor: King & I Angus
A great treat for any night, Sloppy Joes. Slightly sweet, with a little bit of spice, and piled on a burger roll, simply yummy.
Comes in a microwaveable container.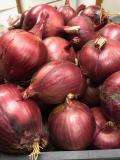 Beautiful red onions
Menu Group: Food
Section: Vegetables
Vendor: Whitehill Farm
Bright pungent flavor, all different sizes. At least 1 lb per bag, Certified Organic