Greetings, Local Food Lovers!
.
Place your order from
Western Maine Market
TODAY or by 6:00 A.M. tomorrow morning for pick-up or delivery this WEDNESDAY.
.
Thanksgiving Schedule
.
This week both Western Maine Market and Farmington's winter market are operating on a special Thanksgiving schedule.

Western Maine Market is accepting orders today. The ordering deadline is 6:00 a.m. tomorrow, Tuesday morning the 23rd. Deliveries will be made on Wednesday the 24th, with Farmington order pick-up at the winter market 11 a.m. to 1 p.m.
*
The winter market will be held Wednesday the 24th prior to Thanksgiving rather than Saturday the 27th, at the St. Joseph Nutrition Center, at the corner of Quebec and Middle Streets in Farmington. Market hours will be10 a.m. to 1 p.m. as usual. The Farmington Grange will have a fundraising bake sale table at the Wednesday market.

There will be no online or indoor winter market during the weekend following Thanksgiving
Last Call for Rustic Roots / Sweet Life Kettle Corn
Please note that fresh "hands" of Maine-grown ginger and turmeric and fresh greens from
Rustic Roots Farm
and kettle corn from
The Sweet Life Kettle Corn Company
are available THIS WEEK ONLY.
.
New and Returning Products
Large eggs, white and shades of brown
Menu Group: Food
Section: Eggs
Category: Chicken
Vendor: Whitehill Farm
Our older layers are still giving us nice eggs, and the new flock is now laying more actual large and extra large eggs than mediums and smalls! They are all enjoying goodies: veggie scraps - coming from the House AND EXTRA greens and trimmings from cooking, and lots of weeds and greens from the gardens! Fresh eggs are are a perfect portion of protein!
Cornbread, Apple, & Sausage stuffing
Menu Group: Food
Section: Prepared Foods
Category: Other
Vendor: Rasmussen Farm
A nut-free version of a delicious recipe from the Silver Palate that has been our go-to stuffing for years. This batch features Running Wild Farm's whey-fed Berkshire pork sausage, Porter Hill Farm's onions, a variety of apples sautéed in sweet butter, and three kinds of our home-baked bread (cornbread, wheat, and French). Nut lovers may wish to add pecans or pecan meal.

You can stuff a bird with it or cook it covered in a casserole dish at 325 for 30 to 45 minutes, preferably surrounded by a larger pan of water to keep it moist.
Tender Brussels Sprouts
Menu Group: Food
Section: Vegetables
Category: Brussels Sprouts
Vendor: Whitehill Farm
just harvested after some nice frosts! Certified Organic These are lovely fresh Brussels sprouts, all nearly the same size in every bag. Certified Organic by MOFGA.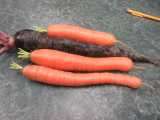 ORGANIC orange carrots!
Menu Group: Food
Section: Vegetables
Category: Carrots
Vendor: Whitehill Farm
Crisp and crunchy golden orange carrots! Perfects for snacking, roasting, or soups. Certified Organic. Beautiful crisp carrots. Package will have at least 2 pounds.
Tuscan kale
Menu Group: Food
Section: Vegetables
Category: Kale
Vendor: Porter Hill Farm
Mix of Potatoes - red and yellow
Menu Group: Food
Section: Vegetables
Category: Potatoes
Vendor: Porter Hill Farm
Red Norland, Yellow Nicola, and Banana Fingerlings
Naturally Grown
Pumpkin pie filling
Menu Group: Food
Section: Vegetables
Category: Pumpkin
Vendor: Rasmussen Farm
.
Our homegrown pumpkin, roasted and pureed with sugar and spices. Add your own egg & milk or alternative. This gives you the option of making it vegan, vegetarian, and/or gluten free.
Keep refrigerated.

To make a traditional pumpkin pie:
Beat 2 large eggs, mix in our pie filling, and add a 12 oz can of evaporated milk.
Preheat oven to 425, pour filling into pie shell or buttered bowl. Bake 15 minutes. Reduce oven temp. to 350. Bake 40-50 minutes or until knife inserted near center comes out clean. Cool on wire rack for 2 hours. Serve immediately or refrigerate.
Hemp-Flower Infused Organic Cooking Oil
Menu Group: Food
Section: Vinegars and Oils
Category: Olive Oil (But it's actually sunflower oil)
Vendor: LoveGrown
.
A potent resin extract of our MOFGA-certified hemp flowers infused into USDA certified organic sunflower oil. Great for any cooking project or salad oil. Perfectly formulated at 1mg hemp flower extract per ml of oil.
Wonderful for including in almost any type of meal or baking project. An easy and different way to ingest your daily dose of all-natural CBD!