Happy Solstice and Merry Christmas!
Place your order from
Western Maine Market
TODAY or by 6:00 A.M. tomorrow morning for pick-up or delivery this WEDNESDAY. We will not be offering order pick-up or deliver this Friday or Saturday.
.
Schedule for Christmas and New Year's
This week and next, both Western Maine Market and Farmington's winter market will have a special schedule for Christmas and New Year's.

We are accepting orders through the online market today, Monday the 20th. The ordering deadline will be 6:00 a.m. Tuesday morning the 21st. Deliveries will be made on Wednesday the 22nd, with Farmington order pick-up at the winter market 11 a.m. to 1 p.m. The same schedule will hold for the final week of 2021, with newsletter and ordering Monday the 27th, pick-up and deliveries Wednesday the 29th.

The winter market will be held Wednesday the 22nd prior to Christmas and Wednesday the 29th prior to New Year's rather than on Christmas Day and New Year's Day, at the St. Joseph Nutrition Center, at the corner of Quebec and Middle Streets. Market hours will be10 a.m. to 1 p.m. as usual. There will be no market on Saturdays those two weeks.

Cedar post Farm and Porter Hill Farm will return to the online market in January.
New and Returning Products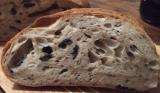 Greek Olive & Rosemary Bread
Menu Group: Food
Section: Baked Goods
Category: Bread
Vendor: Rasmussen Farm
A long-time favorite at our home and with our dinner guests. Crusty free-form loaf. We start with a "sponge," similar to a sourdough starter, giving it a divine texture. Made with unbleached white flour, whole wheat bread flour, water, mixed Greek olives, homegrown rosemary, yeast, and sea salt.
Gazpacho
Menu Group: Food
Section: Prepared Foods
Category: Soups
Vendor: Rasmussen Farm
Gazpacho is a tomato-based vegetable soup, served cold. Comes frozen in a zip-lock bag. Vegan, delicious, coarsely pureed. It's an excellent meal for a hot day, but we enjoy it even on cold evenings - it's just too delicious to resist. We use both cooked and raw tomatoes, everything else is raw. Veggies are all homegrown or from our local farmer friends. Contains tomato, cucumber, onion, green pepper, extra virgin olive oil, balsamic vinegar, garlic, salt, and black pepper.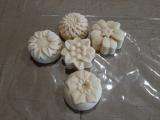 Floral design goat milk soap
Menu Group: Personal Care
Section: Soap
Category: Bar Soap
Vendor: Walnut Ridge Farm
Our soap is made with our creamy goat milk and rendered lard. We use essential oils for a mild floral scent. Each bar is approximately 3.5oz and is in the shape of a flower. Peppermint and Frankincense scents available.