Greetings, Local food lovers!
Place your order from
Western Maine Market
TODAY or by 6:00 A.M. tomorrow morning for pick-up or delivery this Friday or Saturday.
.
New and Returning Products
Pullet eggs
Menu Group: Food
Section: Eggs
Category: Chicken
Vendor: Whitehill Farm
Perfect little "practice" eggs from our new White Leghorn layers. Pullet eggs are minis ...three equal approximately 2 large eggs for recipe planning. Golden yolks just like eggs from our older birds ...and the new girls will be laying larger eggs soon! For baking we use the standard measure ...hand shake thoroughly and then measure! 1 large egg is 3 ¼ tablespoons ...2 = 6 ½ tablespoons, etc!
Meat
Menu Group: Food
Section: Meat
Category: Beef, Pork
Vendor: Cedar Post Farm
BEEF
Hotdogs
Pepperoni
Chuck Steak
Cube Steak
Ground Beef
Hamburger Patties
London Broil Steak
Porterhouse Steak
Ribeye
Strip Roast (New York Strip Roast)
T-bone Steak
Tenderloin Steak

PORK
Loin Roast (Bone in)
Smoked Shoulder Roast
Rack of Ribs (baby back)
Smoked Hambutt
Smoked Hamsteak
Black Oyster Mushrooms
Menu Group: Food
Section: Mushrooms
Category: Oyster
Vendor: E and M Farms
Container 5 1/4"x5 3/8"x2 5/8"

"Over the Rainbow" carrot mix
Menu Group: Food
Section: Vegetables
Category: Carrots
Vendor: Rasmussen Farm
Carrots mostly in shades of white, yellow, & orange along with red. According to Fedco's catalog, it should include purple carrots, but what we've harvested looks like the photo and does not include any purple ones.
A Mix of potatoes - SECONDS
Menu Group: Food
Section: Vegetables
Category: Potatoes
Vendor: Porter Hill Farm
Both Red with white flesh (Red Norlands and/or Red Pontiac) and brown with yellow flesh (Nicola and/or German Butterball). All with cosmetic divots from voles or crickets. Great for mashing, and soups as the flesh remains firm and good.
Waltham Butternut Squash. Certified Organic
Menu Group: Food
Section: Vegetables
Category: Squash - Winter
Vendor: Whitehill Farm
Classic butternut is our go-to winter squash for flavor, texture, and just plain versatility. Fabulous for soups, stews, pies, and the BEST for roasting and sheet-pan dinners! The small ones are perfect for dinner-for-two!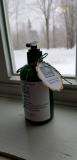 Lotion
Menu Group: Personal Care
Section: Hand and Body
Category: Creams and Lotions
Vendor: Cedar Post Farm
LOTION: Made with Avocado, Rice Bran, and Apricot Kernel oils. Oat Extract and Aloe for a quick absorbing and soothing lotion.
Apple Sage is a lovely, clean apple fragrance with just a hint of sage. It is our most popular scent.
Blackberry Vanilla
Coconut Pineapple
Lavender
Lemongrass
Rosemary Lavender
Unscented
Wildflower Honey

HAND BALM "Made for those chapped hands and cracked fingers we're all too familiar with during winter.
We infuse Avocado oil with Calendula and Chamomile, then add oils, butters, and essential oil." "Ingredients: Shea Butter, Avocado Oil, Beeswax, Cocoa Butter, Argan oil, Mallow Extract, Olive Oil, Rosehip Seed Oil, Calendula and Chamomile.
Lavender, Frankincense, Rosemary, Peppermint, Tea Tree, and Eucalyptus essential oils."
Ingredients: Water, Avocado Oil, Rice Bran Oil, Apricot Kernel Oil, Emulsifying Wax, Stearic Acid, Oat Extract, Aloe, Fragrance, Optiphen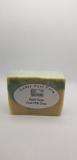 Goat Milk soap
Menu Group: Personal Care
Section: Soap
Category: Bar Soap
Vendor: Cedar Post Farm
A gentle, cleansing bar soap made with milk from our goats.
Ingredients: Goat milk, Olive, Palm, Coconut, and Sweet Almond oils, Sodium Hydroxide, Fragrance, Mica


Apple sage
Balsam and Citrus
Coconut Pineapple
Lavender
Lemongrass
Lilac