Greetings, Local food lovers!
.
Place your order from
Western Maine Market
today for pick-up or delivery this Friday or Saturday.
.
New and Returning Products
Pork
Menu Group: Food
Section: Meat
Category: Pork
.
Vendor: Cedar Post Farm
.
Bacon
Breakfast Sausage (bulk, not links)
Canadian Bacon: cut from the loin, so it is leaner than other bacon. It has a smoky flavor that is between bacon and ham.
Country Ribs
Ground Pork
Maple flavored Breakfast Links
Pork Chops (2 per pack)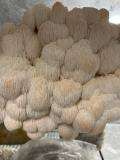 Freshly harvested Mushrooms
Menu Group: Food
Section: Mushrooms
.
Vendor: E and M Farms
.
Chestnut
Lions Mane (pictured)
Pioppino
A Mix of Carrots
Menu Group: Food
Section: Vegetables
Category: Carrots
.
Vendor: Porter Hill Farm
.
Orange & Yellow - Medium to full sized carrots. Grown naturally.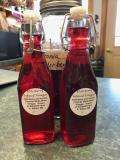 Infused White Wine Vinegars
Menu Group: Food
Section: Vinegars and Oils
Category: Vinegar
.
Vendor: Whitehill Farm
.
Elegant flip-top bottle! Delicious Imported Colavita White Wine Vinegar

(Pictured) Aronia Berry - Chokeberry - infused: steeped with our own Aronia Berries (Chokeberries). Perfect for dressings and marinades. Fruit Certified Organic by MOFGA.

Concord Grape Infused: Lovely fruity aroma and flavor, perfect for salad dressings, marinades, or splashing on fresh fruits. Stunning pink/red color. Locally grown backyard Concord grapes.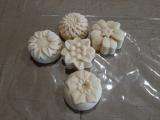 Goat milk soap
Menu Group: Personal Care
Section: Soap
Category: Bar Soap
.
Vendor: Walnut Ridge Farm
.
(Pictured) Floral-shaped soap
Our soap is made with our creamy goat milk and rendered lard. We use essential oils for a mild scent. Each bar is approximately 3.5oz and is in the shape of a flower.
- Frankincense scented
- Peppermint scented



Vendor: Cedar Post Farm

Goat milk soap (rectangular bars)
- Blackberry Vanilla with shea butter: This goat milk soap is great for sensitive or dry skin. In addition to Olive, Coconut, and Palm oils, we add Shea Butter and oatmeal to soothe and nourish your skin.
- Oatmeal and Honey with Shea Butter
- Wildflower Honey