Happy SPRING, local food lovers!
.
Place your order from
Western Maine Market
today for pick-up or delivery this Friday or Saturday.
.
New and Returning Products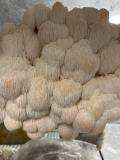 Freshly harvested mushrooms
Menu Group: Food
Section: Mushrooms
Category: Mane
.
Vendor: E and M Farms
.
One dry pint. Wax Paper Packaging

Chestnut
Lions Mane (Pictured)
Pioppino
Green Cabbage-Large
Menu Group: Food
Section: Vegetables
Category: Cabbage
.
Vendor: Porter Hill Farm
.
These dense green cabbage are excellent keepers, and are excellent for slaw, kraut, in stir fries or soups, or boiled for an old fashioned New England dinner.