Greetings, local food lovers!
.
Place your order from
Western Maine Market
today for pick-up or delivery this Friday or Saturday.
.
New and Returning Products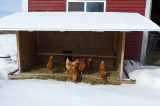 Large Brown Eggs
Menu Group: Food
Section: Eggs
Category: Chicken
Vendor: Porter Hill Farm
Our flock of Red Star chickens lay large to extra-large brown eggs.
They are fed conventional grain sold by Poulin Grains of Vermont. They are cage free, and now getting outside to forage. They are eagerly awaiting the grass turning green and for now eagerly take kitchen scraps and they peck happily whenever I add fresh leafy second cut hay to their coop.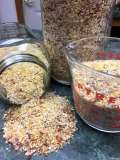 Freshly ground Certified Organic corn meal!
Menu Group: Food
Section: Grain Products
Category: Grains and Flours
Vendor: Whitehill Farm
Freshly ground cornmeal ...Italian Florianni corn - which is a beautiful orange with a creamy yellow interior or Oaxacan Green - yellow/white with flecks of green. REALLY tasty! Corn bread recipes included!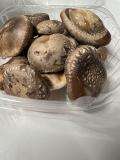 Freshly harvested mushrooms
Menu Group: Food
Section: Mushrooms
Vendor: E and M Farms
.
Freshly harvested Mushrooms, wax paper bag containing a dry pint

Oyster
Shiitake (pictured)
Gazpacho
Menu Group: Food
Section: Prepared Foods
Category: Soups
Vendor: Rasmussen Farm
Frozen zip-lock bag - vegan, delicious, coarsely pureed. Serve cold. Gazpacho is a tomato-based vegetable soup, served cold. It's an excellent meal for a hot day, but we enjoy it even on cold evenings - it's just too delicious to resist.
We use both cooked and raw tomatoes, everything else is raw.
Veggies are all homegrown or from our local farmer friends. Contains tomato, cucumber, onion, green pepper, extra virgin olive oil, balsamic vinegar, garlic, salt, and black pepper. Keep refrigerated or frozen.
Green Cabbage - medium
Menu Group: Food
Section: Vegetables
Category: Cabbage
Vendor: Porter Hill Farm
These dense green cabbage are excellent keepers, and are excellent for slaw, kraut, in stir fries or soups, or boiled for an old fashioned New England dinner.