Happy Easter & Passover, local food lovers!
.
Place your order today from
Western Maine Market
for pick-up or delivery this Friday or Saturday.
.
New & Returning Products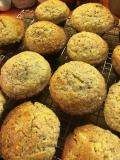 Double Delicious Corn Muffins!
Menu Group: Food
Section: Baked Goods
Category: Muffins
.
Vendor: Whitehill Farm
.
Sweet, moist, chewy, perfect for any meal! Delicious, but simple! Made with Cream Corn - made from scratch with local sweet corn and cream - and our own Certified Organic Corn Meal. Great for any meal.

Baby Greens
Menu Group: Food
Section: Vegetables
Category: Greens
.
Vendor: Fairbanks Farmstand & Nursery
.
Delicious mix of our naturally grown premium greens mix, triple washed and ready to eat. Now available in two sizes.
Woodsman Goat Milk Soap
Menu Group: Personal Care
Section: Soap
Category: Bar Soap
.
Vendor: Cedar Post Farm