Greetings, Local Food Lovers!
.
Place your order from
Western Maine Market
TODAY (or early tomorrow morning) for pick-up or delivery this WEDNESDAY.
.
Thanksgiving Schedule
.
This week Western Maine Market is operating on a special Thanksgiving schedule. We are accepting orders today and early tomorrow morning. Deliveries will be made on Wednesday the 23rd, with Farmington order pick-up outside the Better Living Center on Front Street 11 a.m. to noon. Order pick-up in Jay will be available Wednesday afternoon. All other pick-ups will be ready by, and deliveries will be made, early Wednesday afternoon. The online market will not be operating during the weekend following Thanksgiving.

Farmington's winter market will be held Saturday the 26th as usual, at the St. Joseph Nutrition Center, at the corner of Quebec and Middle Streets in Farmington. Market hours will be 10 a.m. to 1 p.m. as usual.

If you wish to pick up an order from Western Maine Market at the Saturday market, select any pick-up or delivery option and write "Winter Market pick-up" in the Order Note at checkout. But please be aware that those vendors not participating in Saturday's market will deliver everything to us on Wednesday, so perishable items such as greens from Porter Hill Farm would not be at optimum freshness.
New and Returning Products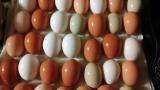 Eggs
Menu Group: Food
Section: Eggs
Category: Chicken
.
Vendor: Depot Street Meats

Free Ranged Chicken Eggs: Eggs from our free ranged chickens. Un-sized, Un-graded, Multi-Colored--all delicious!


Vendor: Maine Homestead Project

(pictured) One dozen multi sized and colored eggs: Our hens are Fed Organic, soy free feed and pasture all summer. Once the snow sticks they return to their winter coop until spring returns. They are a happy bunch and we do our best to keep them that way year round.
We know the price of eggs is high, but we have not raised our prices here, even though our feed costs have gone up to $32/bag. Please help us to keep our hens. We appreciate all the support!
Baldwin Apples
Menu Group: Food
Section: Fruits and Berries
Category: Apples
.
Vendor: Porter Hill Farm
.
An old time heirloom; never sprayed. The Baldwin apple is a bright red winter apple, very good in quality, and easily shipped. It was for many years the most popular apple in New England, New York, and for export from the United States of America.
While not extinct, they are very difficult to find in stores. Some trees can still be found wild in abandoned orchards in New England - yup, we've got one!
Great for baking, pies, apple sauce.
A colorful mix of carrots
Menu Group: Food
Section: Vegetables
Category: Carrots
.
Vendor: Porter Hill Farm
.
You may get Orange, Red, Yellow, White, Purple, and Rainbow which has different shades of yellow and orange. . Medium to full sized carrots. Grown naturally as is all our produce.
Rainbow Chard
Menu Group: Food
Section: Vegetables
Category: Greens Chard
.
Vendor: Porter Hill Farm
.
Avg wt of 2/3 lb. Naturally grown in our greenhouse.
Frozen Hubbard squash
Menu Group: Food
Section: Vegetables
Category: Squash - Winter
.
Vendor: Rasmussen Farm
.
Squash grown, peeled, seeded, chopped into small chunks, vacuum sealed, and frozen here at Rasmussen Farm. A great way to enjoy the delicious flavor of Hubbard squash in a more manageable size!
Arugula
Menu Group: Food
Section: Vegetables
Category: Arugula
.
Vendor: Porter Hill Farm
.
Naturally grown.
Nice fall crop.