Happy Solstice and Merry Chrisstmas, local food lovers!

Please note our special Thursday schedule!
.
Place your order from
Western Maine Market
today for pick-up or delivery TOMORROW.
Order as usual any time today and receive your order after 2 pm on Thursday the 22nd. We will meet customers outside the Better Living Center on Front Street in Farmington 2-3 pm Thursday, then make deliveries from there along our usual route.
Farmington's Saturday winter market has been cancelled for this week. The market will be held as usual next Saturday, New Year's Eve, weather permitting. Please check www.facebook.com/farmingtonmainefarmersmarket [Farmington Farmers' Market's Facebook page] for updates.
Western Maine Market plans to operate on our usual schedule next week, weather permitting.
And - Cedar Post Farm is back this week!
.
Wednesday Workers and Warm Up at the Grange
.
The Farmington Grange invites everyone to attend WWW-Wednesday Workers and Warm Up, every other Wednesday from 10 to 2, weather permitting. At the Farmington Grange Hall, 124 Bridge Street. Next session will be today - December 21. Grange members will be bringing projects to work on, sewing, knitting, rug hooking, etc. There will be games and puzzles, some music, as well as soup coffee and light refreshments. The ladies are willing to teach people how to do simple mending. So others are invited to bring their own projects, or mending or just come in for some warmth and fellowship. The hall has a new updated heating system and is much warmer than in the past. For more information, call Bonnie Clark 207-778-1416
New and Returning Products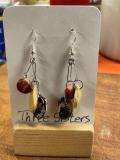 Earrings
Menu Group: Artisan Works
Section: Jewelry
Category: Earrings
Vendor: Whitehill Farm
.
Note: Click "View All Details" on our website's inventory page to see images of other available earrings.

Lovely little angels, with an extra gold bead! Hypoallergenic wires. Handmade at Whitehill Farm. Lovely little angels ! Simple, goldtone, on hypoallergenic wires. Every pair includes safety ear nuts to prevent loss, and a gift box.

Unique Turkish Watermelon seed earrings! Hypoallergenic wires and gift box included! Beautiful and unique Çekirdegi Oyali Turkish watermelon seeds, grown atWhitehill Farm. Handcrafted with nickel-free hypoallergenic wires and gift box included.

(pictured) Unique Three Sisters earrings, grown and handcrafted at Whitehill Farm! Celebrating the traditional Three Sisters planting with Bloody Butcher dent corn, Christmas Lima pole beans, and Waltham Butternut squash. Grown at Whitehill Farm and handcrafted with nickel-free hypoallergenic wires. Gift box included.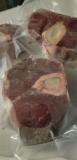 Beef
Menu Group: Food
Section: Meat
Category: Beef
.
Vendor: Cedar Post Farm
.
Beef Chuck Roast: This flavorful cut is a favorite for pot roast. From our herd of Belted Galloways pasture raised here on our farm.

Beef Hotdogs: Hotdogs made from our beef.

Beef Pepperoni

Beef Short Ribs

Beef Sirloin Roast

Brisket

Ground Beef (frozen 1 lb)

Hamburger Patties: 3 Patties, 5.3 oz each

New York Sirloin Steak

Sirloin Tip Steak

(pictured) Soup bone: These soup bones are meaty and cut in 1.5-2" lengths. Lovely to roast in the oven and add to stew.

Stew Beef (1 lb package)

Summer Sausage

Top Round Steak
Pork
Menu Group: Food
Section: Meat
Category: Pork
.
Vendor: Cedar Post Farm
.
Our pigs are raised outside and allowed to browse in movable pens throughout the spring, summer, and fall. Once winter comes, they move into the barn. They are fed high quality pig feed as well as hay, browse, fresh fruits and veges, and their favorite, goat milk.

Country Style Ribs

Ground Pork

Italian Hot Sausage

Maple Flavored Breakfast Links

Pork Chops (2 per pack): Pork chops are cut 3/4" thick. 2 per package, vaccuum sealed and frozen.

Rack of Ribs (baby back)

Smoked Hambutt

Smoked Hamsteak
Cornbread, Apple, & Sausage stuffing
Menu Group: Food
Section: Prepared Foods
Category: Other
.
Vendor: Rasmussen Farm
.
A nut-free version of a delicious recipe from the Silver Palate that has been our go-to stuffing for years. This batch features Running Wild farm's whey-fed Berkshire pork sausage, local onions, and our apples sauteed in sweet butter; our home-baked corn-, wheat-, and French bread, and homegrown parsley, sage, and thyme. Nut lovers may wish to add pecans or pecan meal.

You can stuff a bird with it or cook it covered in a casserole dish at 325 for 30 to 45 minutes, preferably surrounded by a larger pan of water to keep it moist.
Kettle Corn
Menu Group: Food
Section: Sweet Stuff
Category: Other
.
Vendor: The Sweet Life Kettle Corn Company
.
Only four ingredients, corn, corn oil, sugar, and salt! Perfect to split with two people.
Carrots - Orange
Menu Group: Food
Section: Vegetables
Category: Carrots
.
Vendor: Porter Hill Farm
.
Grown naturally.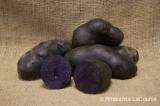 Potatoes
Menu Group: Food
Section: Vegetables
Category: Potatoes
Vendor: Rasmussen Farm
.
Fingerling potato medley: A medley of colorful Fingerlings. Fingerlings are "prized for their interesting colors and exquisite flavors" says the Maine Potato Lady. Excellent roasted or steamed and tossed with butter & parsley.

(pictured) Magic Molly purple fingerlings: Fingerlings with deep purple flesh and skin. Maine Potato Lady describes them as "firm and slightly waxy, with an earthy flavor."

Papa Cacho heirloom fingerlings - long red lovelies

Purple Majesty potatoes, small: "Majestic purple flesh inside satiny purple skin" (The Maine Potato Lady). Great for salads, boiling, or knock-out steak fries.

Red Potatoes

Small potato medley: A colorful mix of small potatoes: red, yellow, purple, russet, white, & a fingerling or two. Enjoy the lovely colors and the range of potato flavors & textures
Seconds Winter Squash - Butternut
Menu Group: Food
Section: Vegetables
Category: Squash - Winter
.
Vendor: Porter Hill Farm
.
Avg Wt = 2.5 lbs
Cosmetic defects
Naturally grown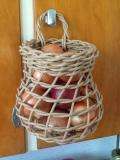 Handmade Onion baskets
Menu Group: Home and Garden
Section: Containers
Category: Baskets
.
Vendor: Whitehill Farm
.
Open and airy, for keeping onions perfectly! Made of Fiber Rush, by Mara Hodgkin, in Temple, Maine. Total height approx 9.5", Width approx 6", Top opening 4".
Unscented Goat Milk Soap with Shea Butter
Menu Group: Personal Care
Section: Soap
Category: Bar Soap
.
Vendor: Cedar Post Farm
.
This goat milk soap has Shea Butter added for extra moisture.