Today Is Friday, October 18, 2019
Online ordering currently unavailable... feel free to look!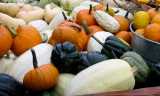 Meet Me at the Market!
---
Visit Bethel Farmers Market Online
Find us Saturdays, May 27 through October 14, from 9 am to 1 pm, on the green space next to Norway Savings Bank.
Offerings
Bethel Farmers Market offers fresh, local produce, naturally raised chicken, beef, pork and lamb, MOFGA certified maple syrup, baked goods, pies, fruit spreads and butters, fresh eggs, fiber products, and handmade soaps.
Activities
---