Today Is Tuesday, June 19, 2018
Sorry, this online market is currently closed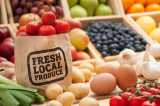 Penquis and Moosehead Region's Year Round Farmer's Market!
---
Our next drop off/pickup is scheduled for this Saturday, from 10AM until 11AM, at the Piscataquis Chamber of Commerce, 1033 South St., Dover-Foxcroft.
Dover Cove Marketplace is an non-profit,online market, operating in affiliation with Dover Cove Farmer's Market. Our Mission is to provide a convenient online marketplace for farmers, farm producers and consumers; to buy and sell fresh local farm products, in Piscataquis, Penobscot, and Somerset counties.
How does the market work?
Buyers: You may place orders throughout the week. When the market closes on Thursday evening, Farmers receive your order, and prepare it for delivery on Saturday, of that same week. Orders placed, after the market reopens on Saturday, are for the FOLLOWING Saturday, not the same calendar day. This gives the farmers time to complete all orders.

Orders are on a pre-buy or a pay at pick-up basis. If you do not pick up your order, it will be either sold or donated to a local food cupboard. This reduces the amount of time the farmer spends harvesting and transporting items, and unnecessary waste. When you use the pay at pick up option, we accept all major debit/credit cards, cash, check, and EBT/Snap Cards (Food Stamps.) the pre-buy option will route you through the Pay Pal website. Thanks!

Sellers: If you are a farmer, or farm producer who would like to offer your products through Dover Cove Market Place, you must register on this site, and contact the administrator. We will accept all vendors provided that:

1. At least 75% of your items are either
processed on the farm, or are made under
direct supervision of the farmer, or are
in "bulk" form (i.e. spices, coffee,
and/or grains.)

2. All farms must meet and comply with State
of Maine Department of Agriculture, Food,
and Rural Resources regulations
regarding the items that you sell,
including all licensing and permits.

3. All products must be delivered on time,
on designated pick up days, and packaged
in pre-ordered quantities. Producers must
be willing to deliver their items to
the pick up site weekly. We encourage
producers to work together to find
efficient ways of transporting their
goods to market.

4. All product packaging must include Farmer
or Producer, Name, Address, Phone number,
Product Name, Product Warnings, and
Quantity/Amounts Included.

5. Producers must keep website inventories
and product information, accurate and up
to date.

6. Products must be of high quality. The
Market Place maintains the right of
refusal at delivery if products to not
meet quality standards.




Where are we, on pick up days?
Dover Cove Market Place, pick-up site, is currently located at Piscataquis Chamber of Commerce, 1033 South Street, in Dover-Foxcroft. This is our winter location, our summer location is at the Dover Cove Farmers' Market, 1041 South Street Dover-Foxcroft. We hope to add more locations, and pick up sites, in the future.
---