![endif]-->') document.write(''); document.write(''); document.write(''); } else { document.write('') document.write('') document.write('') }
All Items
Food
Vendors
"We learn from our gardens to deal with the most urgent question of the time:How much is enough?"

Wendell Berry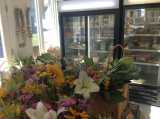 Today Is Friday, December 15, 2017
Apologies, Eat Local Eastport Co-op is currently closed to pre-orders.
Eat Local Eastport Co-op is scheduled to open December 18, 2017 at 5:00 AM.

Holiday Specials!
Cobscook Bay Scallops: $1.50 off
Honey: $1 off pints, $2 off quarts
Olive Oil: $1 off small, $2 off large
---
Our Mission:
The Eat Local Eastport Cooperative is a Consumer and Producer owned marketplace providing the greater Eastport community with the best quality food at its true cost while supporting regional food production and caring for the community's health.
Our Offerings:
Poultry - Pork - Beef
Cheese - Yogurt - Kefir
Smoked Salmon
Seasonal Produce
Maple Syrup - Honey
Tofu - Eggs
Grains - Sea Salt - Herbs
Coffee - Teas
Natural Snacks

(some items available in-store only)
---