![endif]-->') document.write(''); document.write(''); } else { document.write('') document.write('') }
All Items
Food
Home and Garden
Vendors
"We learn from our gardens to deal with the most urgent question of the time:How much is enough?"

Wendell Berry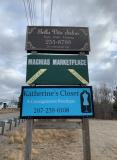 Today Is Wednesday, February 19, 2020
YOU CAN TASTE THE FRESHNESS
---
We are located at 291 Main Street in Machias.
Across from Pineo's True Value tucked behind Katherine's Closet.
*****
WE ARE NOW ORDERING FROM ASSOCIATED BUYERS!!
We would love to pre-order something for you if you are interested!
The website link is here: http://www.associated-buyers.com/

Our log-in information is
User: machiasmarketplace
Pass: Veggies4days

This will allow you to look through the online catalog,
email us with your order to: [email protected]

The next order due date for associated buyers is: March 10th
The next delivery from Associated is: March 12th or 13th

We are trying to expand our dairy free and gluten free section! If you have any suggestions or requests, please let me know and I would be happy to order it for you!
****
ALL Pre-orders are for the following week.
Next delivery dates: February 26th, 27th, 28th &29th

MARKET HOURS:
WEDNESDAYS: Noon TO 5:30 PM
THURSDAYS: 10 AM TO 5:30 PM
FRIDAYS: 9:30 AM TO 5:30 PM
SATURDAYS: 9:30 AM TO 2 PM

Welcome to the local taste of Washington County. Find here the best and healthiest meats, dairy, fruit, & veggies.

Maple Lane Farm located in Charleston, Maine.
Their Grass fed beef & pork are all raised right on their farm and are processed shortly before arriving through our doors. NEXT ORDER DEADLINE IS: Saturday, February 22nd for a February 26th delivery.

Maple Syrup from Chandler's Sugar Shack. We have been selling their wonderfully flavorful Syrup for 10 years, and is a favorite of ours.

We carry lots of products that are not shown on this website, please come in and check them out !
Honey, Coffee, Popcorn, Crackers, Granola, Hot Sauce, Sauerkraut, Kimchi, Bulk goods, and so much more!

We accept cash, checks, credit and debit payments, as well as EBT/SNAP.

Thanks for your support it does make a real difference in the lives of our local family farms.
---