All Items
Food
Home and Garden
Vendors
Today Is Friday, September 29, 2023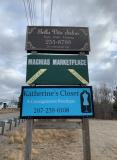 YOU CAN TASTE THE FRESHNESS
Come and find us at 291 Main Street in Machias. We are in the building right across from Pineo's True Value!

*************PLEASE NOTE:*********
ALL PRE-ORDERS ON HERE ARE FOR THE FOLLOWING WEEK!!!!
***************************************************************************
Farm Fresh Rewards Program:
**Don't forget about our Farm Fresh Rewards Program!!! For every $10 you spend on locally made
products/produce you earn $5 to spend on local fruits/veggies!!
This is the perfect way to double your dollars!


CURBSIDE PICKUP STILL AVAILABLE!!

Call/Email us your order and we will shop for you!!

Payment is able to be accepted over the phone.
Once your order is ready, and let us know when you're here and we will bring your box out to you!

Thank you all for your continued support.
We appreciate each and every one of you! :)

*****
WE ARE NOW ORDERING FROM ASSOCIATED BUYERS!!

Associated carries lots of items that you have probably bought before, all of your baking needs, as well as your dinner needs. They have things from food product to cleaning supplies, dog treats, and even dietary supplements!
Ask us what you are looking for and we can help you! :)

We would love to pre-order something for you if you are interested!
The website link is here: http://www.associated-buyers.com/

Our log-in information is
User: machias.fmp@gmail.com
Pass: Veggies4days

This will allow you to look through the online catalog,
email us with your order to: machias.fmp@gmail.com

We are trying to expand our dairy free and gluten free section! If you have any suggestions or requests, please let me know and I would be happy to order it for you!
****
ALL Pre-orders are for the following week.
Next delivery dates: Thursday!

MARKET HOURS:
THURSDAYS: 9:30 AM TO 5:00 PM
FRIDAYS: 9:30 AM TO 5:00 PM
SATURDAYS: 9:30 AM TO 2 PM

Tide Mill Organic chicken is the perfect addition to your favorite meal!! It is tender and juicy, perfect for soups, baking, sautéing, or frying! Try some you will love it!

Maple Syrup from Chandler's Sugar Shack. We have been selling their Syrup for 10 years, and is a favorite of ours.

We carry lots of products that are not shown on this website, please come in and check them out !
Honey, Coffee, Popcorn, Crackers, Granola, Hot Sauce, Sauerkraut, Kimchi, Bulk goods, and so much more!

We currently accept cash, checks, credit and debit payments.

Thanks for your support it does make a real difference in the lives of our local family farms.
---