![endif]-->') document.write(''); document.write(''); } else { document.write('') document.write('') }
All Items
Food
Home and Garden
Vendors
"We learn from our gardens to deal with the most urgent question of the time:How much is enough?"

Wendell Berry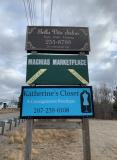 Today Is Tuesday, January 28, 2020
YOU CAN TASTE THE FRESHNESS
---
We are located at 291 Main Street in Machias.
Across from Pineo's True Value tucked behind Katherine's Closet.
****
GRAND OPENING!!!

KayLee Pettegrow, the new owner of Machias MarketPlace and Sharon Berry, owner of the newest consignment shop, Katherine's Closet, will be co-hosting their grand openings together on Saturday, February 1st.

Come join us for a fun-filled day celebrating these new business ventures offering quality goods which support our local community and economy. We will have light refreshments and prizes throughout the day. We hope you can make it! 😊

Katherine's Closet will also reveal the name of their new mannequin on this date. Suggestions are still being welcomed, come meet her and see what you think!

We are located at 291 Main Street, across from Pineo's True Value in Machias and look forward to seeing you all!
****

We are open 4 days a week: WEDNESDAYS, THURSDAYS, FRIDAYS, and SATURDAYS

ALL Pre-orders are for the following week.
Next dates: February 6th, 7th & 8th

MARKET HOURS!:
WEDNESDAYS: Noon TO 5:30 PM
THURSDAYS: 10 AM TO 5:30 PM
FRIDAYS: 9:30 AM TO 5:30 PM
SATURDAYS: 9:30 AM TO 2 PM


Welcome to the local taste of Washington County. Find here the best and healthiest meats, dairy, fruit, & veggies.

Maple Lane Farm located in Charleston, Maine.
Their Grass fed beef & pork are all raised right on their farm and are processed shortly before arriving through our doors. NEXT ORDER DEADLINE IS: Saturday, February 1st for a February 5th delivery.

Maple Syrup from Chandler's Sugar Shack. We have been selling their wonderfully flavorful Syrup for 10 years, and is a favorite of ours.

We carry lots of products that are not shown on this website, please come in and check them out !
Honey, Coffee, Popcorn, Crackers, Granola, Hot Sauce, Sauerkraut, Kimchi, Bulk goods, and so much more!

We accept cash, checks, credit and debit payments, as well as EBT/SNAP.

Thanks for your support it does make a real difference in the lives of our local family farms.
---