![endif]-->') document.write(''); document.write(''); } else { document.write('') document.write('') }
All Items
Food
Home and Garden
Vendors
"We learn from our gardens to deal with the most urgent question of the time:How much is enough?"

Wendell Berry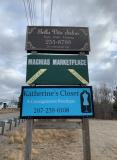 Today Is Friday, April 10, 2020
YOU CAN TASTE THE FRESHNESS
---
We are located at 291 Main Street in Machias.
Across from Pineo's True Value tucked behind Katherine's Closet.

UPDATE:
We will be taking a slight pause on Maple Lane Meat as it will not be available to us.
Our delivery driver is concerned for his own safety so he will be taking the next two weeks off.

Maple Lane meat will be missed but it will be back before we know it!

It is the perfect time to stock up now while we have a large selection of their meat in the freezer!

I will continue to order chicken from Tide Mill and I may begin ordering beef from them if we feel it is necessary! If anyone has any requests please let us know!!

Thank you for understanding,
KayLee
*****
WE ARE NOW ORDERING FROM ASSOCIATED BUYERS!!
We would love to pre-order something for you if you are interested!
The website link is here: http://www.associated-buyers.com/
Catalog URL: http://www.associated-buyers.com/pdf/AB%20-%20APR%2020%20Catalog.pdf

Our log-in information is
User: machiasmarketplace
Pass: Veggies4days

This will allow you to look through the online catalog,
email us with your order to: [email protected]

The next order due date for associated buyers is: April 7th
The next delivery from Associated is: April 9th/10th

We are trying to expand our dairy free and gluten free section! If you have any suggestions or requests, please let me know and I would be happy to order it for you!
****
ALL Pre-orders are for the following week.
Next delivery dates: April 8th 9th 10th & 11th

MARKET HOURS:
WEDNESDAYS: Noon TO 5:30 PM
THURSDAYS: 9:30 AM TO 5:30 PM
FRIDAYS: 9:30 AM TO 5:30 PM
SATURDAYS: 9:30 AM TO 2 PM

Welcome to the local taste of Washington County. Find here the best and healthiest meats, dairy, fruit, & veggies.

Tide Mill Organic chicken is the perfect addition to your favorite meal!! It is tender and juicy, perfect for soups, baking, sauteing, or frying! Try some you will love it!

Maple Syrup from Chandler's Sugar Shack. We have been selling their wonderfully flavorful Syrup for 10 years, and is a favorite of ours.

We carry lots of products that are not shown on this website, please come in and check them out !
Honey, Coffee, Popcorn, Crackers, Granola, Hot Sauce, Sauerkraut, Kimchi, Bulk goods, and so much more!

We accept cash, checks, credit and debit payments, as well as EBT/SNAP.

Thanks for your support it does make a real difference in the lives of our local family farms.
---