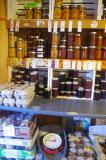 Starting November 7,2020 the Contoocook market is going virtual.
Order through the Webster Ridge Farm /harvest to market and pick up Saturday mornings at the
Depot in Contoocook 10 am-12 noon.

You can pick up at the farm but you need to call or email me your order! Payment can be made by cash or check at the farm.
---
The shelves are filled with GOOD THINGS IN JARS and are ready for you to enjoy!
I haven't been canning as I don't have any room on my shelves. So that means I need everyone to contact me to get your favorite jams,pickles or pizza passata. All our customers are encouraged to recycle OUR canning jars (I only put labels on the bottom and on the lid). If you don't use them, don't throw them in the glass recycling at the dump (unless they are damaged). Instead receive a credit of.50 toward the purchase of more canned goodies!
The farm freezers have a limited amount of Beef and Pork cuts-Call or email to inquire
I hope to have lamb in the early fall.
---